Northman Cetop 3
SWH-G02 Series Features
Oil immersed armatures, impact is cushioned, reduced noise, solenoid life increased.
Wet armature solenoid eliminates push pin seal, therefore no seal wear or leakage, for longer valve life.
Moulded coils for maximum insulating properties, which are impervious to dirt and moisture.
Plug in solenoid for ease of maintenance.
All spools and bodies are interchangeable.
High pressure, high flow rating provides low pressure drop with max. performance.
Balanced spool allows proper shifting force for max reliability and long life.
Comes with indicating signal light Hirschmann plug/s and single station bolt kit.
Specifications
Max. tank pressure - 140 bar
Max. freq. of operation - 300 cycles per minute.
Model

Description

Max. Flow

lpm

Max. Pressure

bar

SWH-G02-B*-***

Single solenoid, 2 position

63

310

SWH-G02-C*B-***

Single solenoid, 2 position

63

310

SWH-G02-C*-***

Double solenoid, 3 position

63

310
* - Spool number - Click here to view Northman Cetop spool types
*** - Solenoid voltage
Spare Components

Model

Description

240VAC/60Hz coil

110VAC/60Hz coil

12VDC coil

24VDC coil

Hirschmann Plug DC

Hirschmann Plug AC

DIN rectifier plug with LED – 24V AC to DC

Steel Sub-plate, 3/8" BSP, side ported

Download the full Northman directional valve brochure from here.
Downloads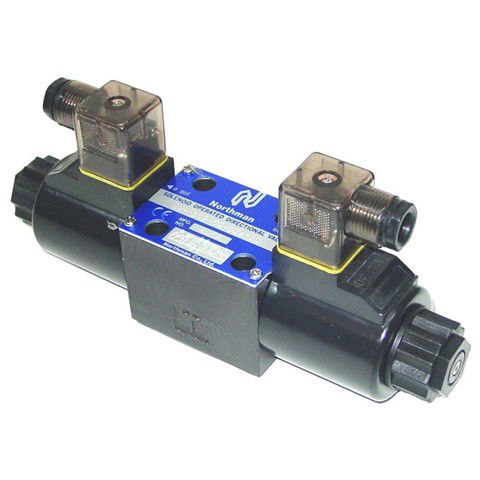 | Code | Product Name | Price | Stock Availability | Quantity | Enquire |
| --- | --- | --- | --- | --- | --- |
| AD2E03CM003 | ARON 24VDC CETOP 2 VALVE | $279.60 | Out of Stock | | |
| DC-G02-B2-10 | NORTHMAN CETOP 3 VALVE CAM OPERATED | $293.60 | Out of Stock | | |
| SWH-G02-B2-A24 | NORTHMAN CETOP 3 VALVE | $233.35 | Out of Stock | | |
| SWH-G02-B2-A110 | NORTHMAN CETOP 3 VALVE | $233.35 | Out of Stock | | |
| SWH-G02-B2-A240 | NORTHMAN CETOP 3 VALVE | $233.35 | Out of Stock | | |
| SWH-G02-B2-D12 | NORTHMAN CETOP 3 VALVE | $233.35 | In Stock | | |
| SWH-G02-B2-D24 | NORTHMAN CETOP 3 VALVE | $233.35 | Out of Stock | | |
| SWH-G02-B2S-A110 | NORTHMAN CETOP 3 VALVE | $233.35 | Out of Stock | | |
| SWH-G02-B2S-A240 | NORTHMAN CETOP 3 VALVE | $233.35 | Out of Stock | | |
| SWH-G02-B2S-D12 | NORTHMAN CETOP 3 VALVE | $233.35 | Out of Stock | | |
| SWH-G02-B2S-D24 | NORTHMAN CETOP 3 VALVE | $233.35 | Out of Stock | | |
| SWH-G02-B3-A110 | NORTHMAN CETOP 3 VALVE | $233.35 | Out of Stock | | |
| SWH-G02-B3-A240 | NORTHMAN CETOP 3 VALVE | $233.35 | Out of Stock | | |
| SWH-G02-B3-D12 | NORTHMAN CETOP 3 VALVE | $233.35 | In Stock | | |
| SWH-G02-B3-D24 | NORTHMAN CETOP 3 VALVE | $233.35 | In Stock | | |
| SWH-G02-B3-R240 | NORTHMAN CETOP 3 VALVE | $233.35 | Out of Stock | | |
| SWH-G02-B3S-A240 | NORTHMAN CETOP 3 VALVE | $233.35 | Out of Stock | | |
| SWH-G02-B3S-D12 | NORTHMAN CETOP 3 VALVE | $233.35 | Out of Stock | | |
| SWH-G02-B3S-D24 | NORTHMAN CETOP 3 VALVE | $233.35 | Out of Stock | | |
| SWH-G02-B3ST-D24 | NORTHMAN CETOP 3 VALVE | $293.60 | Out of Stock | | |
| SWH-G02-C2-A24 | NORTHMAN CETOP 3 VALVE | $293.60 | Out of Stock | | |
| SWH-G02-C2-A110 | NORTHMAN CETOP 3 VALVE | $293.60 | Out of Stock | | |
| SWH-G02-C2-A240 | NORTHMAN CETOP 3 VALVE | $293.60 | In Stock | | |
| SWH-G02-C2-D12 | NORTHMAN CETOP 3 VALVE | $293.60 | In Stock | | |
| SWH-G02-C2-D24 | NORTHMAN CETOP 3 VALVE | $293.60 | In Stock | | |
| SWH-G02-C2B-A110 | NORTHMAN CETOP 3 VALVE | $233.35 | Out of Stock | | |
| SWH-G02-C2B-A240 | NORTHMAN CETOP 3 VALVE | $233.35 | Out of Stock | | |
| SWH-G02-C2B-D12 | NORTHMAN CETOP 3 VALVE | $233.35 | Out of Stock | | |
| SWH-G02-C2B-D24 | NORTHMAN CETOP 3 VALVE | $233.35 | Out of Stock | | |
| SWH-G02-C2BS-D12 | NORTHMAN CETOP 3 VALVE | $233.35 | Out of Stock | | |
| SWH-G02-C2BS-D24 | NORTHMAN CETOP 3 VALVE | $233.35 | In Stock | | |
| SWH-G02-C2BS-R24 | NORTHMAN CETOP 3 VALVE | $293.60 | Out of Stock | | |
| SWH-G02-C2BSA110 | NORTHMAN CETOP 3 VALVE | $233.35 | Out of Stock | | |
| SWH-G02-C2BSA240 | NORTHMAN CETOP 3 VALVE | $233.35 | Out of Stock | | |
| SWH-G02-C3-A24 | NORTHMAN CETOP 3 VALVE | $282.50 | Out of Stock | | |
| SWH-G02-C3-A110 | NORTHMAN CETOP 3 VALVE | $293.60 | Out of Stock | | |
| SWH-G02-C3-A240 | NORTHMAN CETOP 3 VALVE | $293.60 | Out of Stock | | |
| SWH-G02-C3-D12 | NORTHMAN CETOP 3 VALVE | $293.60 | In Stock | | |
| SWH-G02-C3-D24 | NORTHMAN CETOP 3 VALVE | $293.60 | In Stock | | |
| SWH-G02-C3B-A240 | NORTHMAN CETOP 3 VALVE | $233.35 | Out of Stock | | |
| SWH-G02-C3B-D12 | NORTHMAN CETOP 3 VALVE | $233.35 | Out of Stock | | |
| SWH-G02-C3B-D24 | NORTHMAN CETOP 3 VALVE | $233.35 | Out of Stock | | |
| SWH-G02-C3B-R240 | NORTHMAN CETOP 3 VALVE | $233.35 | Out of Stock | | |
| SWH-G02-C3BS-A24 | NORTHMAN CETOP 3 VALVE | $233.35 | Out of Stock | | |
| SWH-G02-C3BS-D12 | NORTHMAN CETOP 3 VALVE | $233.35 | Out of Stock | | |
| SWH-G02-C3BS-D24 | NORTHMAN CETOP 3 VALVE | $233.35 | In Stock | | |
| SWH-G02-C4-A110 | NORTHMAN CETOP 3 VALVE | $293.60 | Out of Stock | | |
| SWH-G02-C4-A120 | NORTHMAN CETOP 3 VALVE | $293.60 | Out of Stock | | |
| SWH-G02-C4-A240 | NORTHMAN CETOP 3 VALVE | $293.60 | Out of Stock | | |
| SWH-G02-C4-D12 | NORTHMAN CETOP 3 VALVE | $293.60 | In Stock | | |
| SWH-G02-C4-D24 | NORTHMAN CETOP 3 VALVE | $293.60 | In Stock | | |
| SWH-G02-C4B-A110 | NORTHMAN CETOP 3 VALVE | $233.35 | Out of Stock | | |
| SWH-G02-C4B-A240 | NORTHMAN CETOP 3 VALVE | $233.35 | Out of Stock | | |
| SWH-G02-C4B-D12 | NORTHMAN CETOP 3 VALVE | $233.35 | Out of Stock | | |
| SWH-G02-C4B-D24 | NORTHMAN CETOP 3 VALVE | $233.35 | Out of Stock | | |
| SWH-G02-C4BS-D12 | NORTHMAN CETOP 3 VALVE | $233.35 | Out of Stock | | |
| SWH-G02-C4BS-D24 | NORTHMAN CETOP 3 VALVE | $233.35 | In Stock | | |
| SWH-G02-C4BSA240 | NORTHMAN CETOP 3 VALVE | $233.35 | Out of Stock | | |
| SWH-G02-C5-D24 | NORTHMAN CETOP 3 VALVE | $293.60 | Out of Stock | | |
| SWH-G02-C6-A24 | NORTHMAN CETOP 3 VALVE | $293.60 | Out of Stock | | |
| SWH-G02-C6-A110 | NORTHMAN CETOP 3 VALVE | $293.60 | Out of Stock | | |
| SWH-G02-C6-A240 | NORTHMAN CETOP 3 VALVE | $346.45 | In Stock | | |
| SWH-G02-C6-D12 | NORTHMAN CETOP 3 VALVE | $293.60 | Out of Stock | | |
| SWH-G02-C6-D24 | NORTHMAN CETOP 3 VALVE | $293.60 | In Stock | | |
| SWH-G02-C6-D24M1 | NORTHMAN CETOP 3 VALVE | $293.60 | Out of Stock | | |
| SWH-G02-C6B-A240 | NORTHMAN CETOP 3 VALVE | $233.35 | Out of Stock | | |
| SWH-G02-C6B-D12 | NORTHMAN CETOP 3 VALVE | $233.35 | Out of Stock | | |
| SWH-G02-C6B-D24 | NORTHMAN CETOP 3 VALVE | $233.35 | Out of Stock | | |
| SWH-G02-C6BS-D12 | NORTHMAN CETOP 3 VALVE | $233.35 | Out of Stock | | |
| SWH-G02-C6BS-D24 | NORTHMAN CETOP 3 VALVE | $233.35 | Out of Stock | | |
| SWH-G02-C8-D12 | NORTHMAN CETOP 3 VALVE | $293.60 | Out of Stock | | |
| SWH-G02-CBS-D24 | NORTHMAN CETOP 3 VALVE | $233.35 | Out of Stock | | |