Northman Cetop 5
Description
SWH-G03 Series Features
• Electrical connections are Hirschman DIN plug in connector. Indicating light plugs are standard.
• Electrical connection points are aligned with the axial direction to be compatible with modular systems.
• For ease of installation and repair, the mounting screws are on the outside of the body.
• Ability to sustain high pressure - 310 bar, allows for large flow rates to 120 lpm.
• The design of the flow passages minimises pressure drop.
• The 4 way, 4 land construction design reduces the flow force and system surging pressure.
• Can sustain back pressure to 160 bar.
• Comes with Hirschmann plug/s and single station bolt kit.

Specifications
Max. tank pressure - 160 bar
Max. freq. of operation - 240 cycles per minute.
Model

Description

Max. Flow

lpm

Max. Pressure

bar

SWH-G03-B*-***

Single solenoid, 2 position

120

310

SWH-G03-C*B-***

Single solenoid, 2 position

120

310

SWH-G03-C*-***

Double solenoid, 3 position

120

310
* - Spool number - Click here to view Northman Cetop spool types
*** - Solenoid voltage
Spare Components

Model

Description

110VAC/60HZ coil

240VAC/60HZ coil

12VDC coil

24VDC coil

Hirschmann Plug DC

Hirschmann Plug AC

DIN rectifier plug with LED – 24V AC to DC

Steel Sub-plate, 1/2" BSP, side ported

Download the Northman Directional Control Valves brochure from here.
Downloads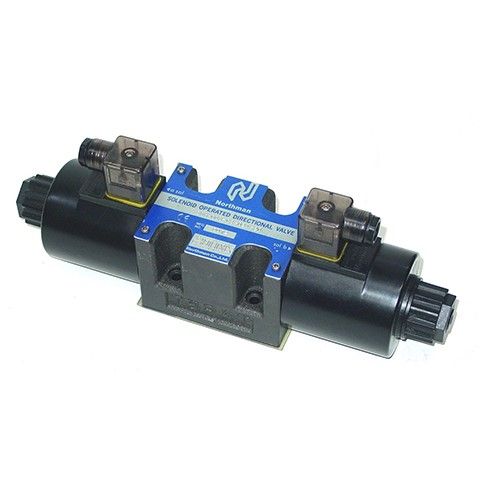 | Code | Product Name | Price | Stock Availability | Quantity | Enquire |
| --- | --- | --- | --- | --- | --- |
| SWH-G03-B2-A110 | NORTHMAN CETOP 5 VALVE | $341.95 | Out of Stock | | |
| SWH-G03-B2-A240 | NORTHMAN CETOP 5 VALVE | $341.95 | Out of Stock | | |
| SWH-G03-B2-D12 | NORTHMAN CETOP 5 VALVE | $341.95 | Out of Stock | | |
| SWH-G03-B2-D24 | NORTHMAN CETOP 5 VALVE | $341.95 | Out of Stock | | |
| SWH-G03-B2BS-D24 | NORTHMAN CETOP 5 VALVE | $341.95 | Out of Stock | | |
| SWH-G03-B2S-A240 | NORTHMAN CETOP 5 VALVE | $341.95 | Out of Stock | | |
| SWH-G03-B2S-D12 | NORTHMAN CETOP 5 VALVE | $341.95 | Out of Stock | | |
| SWH-G03-B2S-D24 | NORTHMAN CETOP 5 VALVE | $341.95 | Out of Stock | | |
| SWH-G03-B3-A110 | NORTHMAN CETOP 5 VALVE | $341.95 | Out of Stock | | |
| SWH-G03-B3-A240 | NORTHMAN CETOP 5 VALVE | $341.95 | Out of Stock | | |
| SWH-G03-B3-D12 | NORTHMAN CETOP 5 VALVE | $341.95 | Out of Stock | | |
| SWH-G03-B3-D24 | NORTHMAN CETOP 5 VALVE | $341.95 | Out of Stock | | |
| SWH-G03-B3S-A240 | NORTHMAN CETOP 5 VALVE | $341.95 | Out of Stock | | |
| SWH-G03-B3S-D12 | NORTHMAN CETOP 5 VALVE | $341.95 | Out of Stock | | |
| SWH-G03-B3S-D24 | NORTHMAN CETOP 5 VALVE | $341.95 | Out of Stock | | |
| SWH-G03-B71S-D24 | NORTHMAN CETOP 5 VALVE | $554.55 | Out of Stock | | |
| SWH-G03-C2-A110 | NORTHMAN CETOP 5 VALVE | $426.30 | Out of Stock | | |
| SWH-G03-C2-A120 | NORTHMAN CETOP 5 VALVE | $426.30 | Out of Stock | | |
| SWH-G03-C2-A240 | NORTHMAN CETOP 5 VALVE | $426.30 | Out of Stock | | |
| SWH-G03-C2-D12 | NORTHMAN CETOP 5 VALVE | $426.30 | In Stock | | |
| SWH-G03-C2-D24 | NORTHMAN CETOP 5 VALVE | $426.30 | In Stock | | |
| SWH-G03-C2-R240 | NORTHMAN CETOP 5 VALVE | $426.30 | Out of Stock | | |
| SWH-G03-C2-SPOOL | NORTHMAN CETOP 5 VALVE | $68.65 | Out of Stock | | |
| SWH-G03-C2B-A240 | NORTHMAN CETOP 5 VALVE | $341.95 | Out of Stock | | |
| SWH-G03-C2B-D12 | NORTHMAN CETOP 5 VALVE | $341.95 | Out of Stock | | |
| SWH-G03-C2B-D24 | NORTHMAN CETOP 5 VALVE | $341.95 | Out of Stock | | |
| SWH-G03-C2BS-A24 | NORTHMAN CETOP 5 VALVE | $341.95 | Out of Stock | | |
| SWH-G03-C2BS-D12 | NORTHMAN CETOP 5 VALVE | $341.95 | Out of Stock | | |
| SWH-G03-C2S-D24 | NORTHMAN CETOP 5 VALVE | $426.30 | Out of Stock | | |
| SWH-G03-C3-A24 | NORTHMAN CETOP 5 VALVE | $426.30 | Out of Stock | | |
| SWH-G03-C3-A110 | NORTHMAN CETOP 5 VALVE | $426.30 | Out of Stock | | |
| SWH-G03-C3-A240 | NORTHMAN CETOP 5 VALVE | $426.30 | Out of Stock | | |
| SWH-G03-C3-D12 | NORTHMAN CETOP 5 VALVE | $426.30 | In Stock | | |
| SWH-G03-C3-D12-M | NORTHMAN CETOP 5 VALVE | $426.30 | Out of Stock | | |
| SWH-G03-C3-D24 | NORTHMAN CETOP 5 VALVE | $426.30 | Out of Stock | | |
| SWH-G03-C3B-A240 | NORTHMAN CETOP 5 VALVE | $341.95 | Out of Stock | | |
| SWH-G03-C3B-D12 | NORTHMAN CETOP 5 VALVE | $341.95 | Out of Stock | | |
| SWH-G03-C3B-D24 | NORTHMAN CETOP 5 VALVE | $341.95 | Out of Stock | | |
| SWH-G03-C4-A110 | NORTHMAN CETOP 5 VALVE | $426.30 | Out of Stock | | |
| SWH-G03-C4-A240 | NORTHMAN CETOP 5 VALVE | $426.30 | Out of Stock | | |
| SWH-G03-C4-D12 | NORTHMAN CETOP 5 VALVE | $426.30 | In Stock | | |
| SWH-G03-C4-D24 | NORTHMAN CETOP 5 VALVE | $426.30 | In Stock | | |
| SWH-G03-C4-R240 | NORTHMAN CETOP 5 VALVE | $426.30 | Out of Stock | | |
| SWH-G03-C4B-A240 | NORTHMAN CETOP 5 VALVE | $341.95 | Out of Stock | | |
| SWH-G03-C4B-D12 | NORTHMAN CETOP 5 VALVE | $341.95 | Out of Stock | | |
| SWH-G03-C4B-D24 | NORTHMAN CETOP 5 VALVE | $341.95 | Out of Stock | | |
| SWH-G03-C4BS-A24 | NORTHMAN CETOP 5 VALVE | $341.95 | Out of Stock | | |
| SWH-G03-C4BS-D12 | NORTHMAN CETOP 5 VALVE | $341.95 | Out of Stock | | |
| SWH-G03-C5B-A240 | NORTHMAN CETOP 5 VALVE | $426.30 | Out of Stock | | |
| SWH-G03-C6-A110 | NORTHMAN CETOP 5 VALVE | $426.30 | Out of Stock | | |
| SWH-G03-C6-A240 | NORTHMAN CETOP 5 VALVE | $426.30 | In Stock | | |
| SWH-G03-C6-D12 | NORTHMAN CETOP 5 VALVE | $426.30 | In Stock | | |
| SWH-G03-C6-D24 | NORTHMAN CETOP 5 VALVE | $426.30 | In Stock | | |
| SWH-G03-C6B-A110 | NORTHMAN CETOP 5 VALVE | $341.95 | Out of Stock | | |
| SWH-G03-C6B-A240 | NORTHMAN CETOP 5 VALVE | $341.95 | Out of Stock | | |
| SWH-G03-C6B-D12 | NORTHMAN CETOP 5 VALVE | $341.95 | Out of Stock | | |
| SWH-G03-C6B-D24 | NORTHMAN CETOP 5 VALVE | $341.95 | Out of Stock | | |
| SWH-G03-C6BS-D24 | NORTHMAN CETOP 5 VALVE | $341.95 | Out of Stock | | |
| SWH-G03-C8-A240 | NORTHMAN CETOP 5 VALVE | $426.30 | Out of Stock | | |
| SWH-G03-N2-A110 | NORTHMAN CETOP 5 VALVE | $426.30 | Out of Stock | | |