Home

/

Bucher Power Packs
Bucher Power Packs
Description
• Pre-assembled, economical power pack
• 12 VDC 2.0 kW & 24 VDC 2.2 kW motors; 3, 5 & 8 litre tanks
• 2.1 cc/rev pump
• Single acting or CETOP circuits
• Complete wired remote control

NB: Price shown for the different models does not include single acting solenoid or Cetop 3 valve due to the many different configuration options available. Select the model power pack you want and then add a solenoid valve and coil or Cetop valve to get the full assembly price. Oil is not included.
Downloads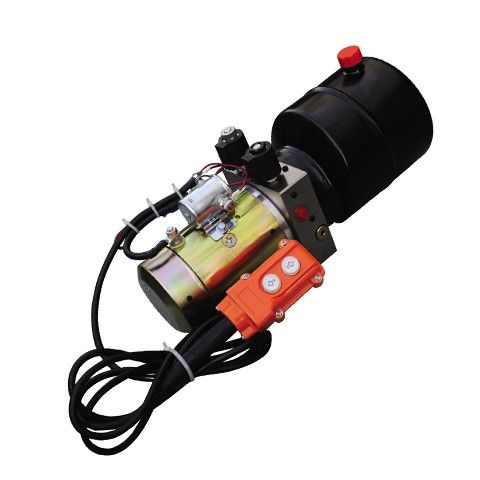 | Code | Product Name | Price | Stock Availability | Quantity | Enquire |
| --- | --- | --- | --- | --- | --- |
| 634-12C1-212-09 | BUCHER START SOLENOID 12VDC NEW STYLE | $76.75 | In Stock | | |
| 684-24C1-212-17 | BUCHER START SOLENOID 24VDC NEW STYLE | $92.00 | In Stock | | |
| CBK-F0.8F | BUCHER GEAR PUMP 0.8 CC | $152.05 | In Stock | | |
| CBK-F1.6F | BUCHER GEAR PUMP 1.6 CC | $152.05 | In Stock | | |
| CBK-F2.1F | BUCHER GEAR PUMP 2.1 CC | $152.05 | In Stock | | |
| CBK-F3.7F | BUCHER GEAR PUMP 3.7 CC | $152.05 | Out of Stock | | |
| CBK-F6.0F | BUCHER GEAR PUMP 6.0 CC | $152.05 | Out of Stock | | |
| DM12-2BWT-3BAR | BUCHER DC MOTOR 24VDC 2.0KW WITH THERMAL O/L TANG DRIVE 2POLE | $471.30 | Out of Stock | | |
| DM21-1AWU-3BC1RB | BUCHER DC MOTOR 12VDC 2KW WITH THERMAL OVERLOAD | $320.70 | Out of Stock | | |
| DM22-2AWU-3BA1R-T-WK | BUCHER DC MOTOR 24VDC 2.0KW WITH THERMAL OVERLOAD | $507.70 | Out of Stock | | |
| DM22-2MWU-3BA1R | BUCHER DC MOTOR 24VDC 2.2KW WITH THERMAL OVERLOAD | $351.50 | In Stock | | |
| DMP-1SD3.2-9BXUA | BUCHER PUMP-MOTOR 48VDC 3KW 3.2CC | $778.10 | In Stock | | |
| DMP-1SD6-9BXU-A | BUCHER PUMP-MOTOR 48VDC 3KW 6CC | $778.10 | Out of Stock | | |
| DMP-1SF3.2-2BXUA | BUCHER PUMP-MOTOR 24VDC 3KW 3.2 CC | $985.60 | Out of Stock | | |
| DMP-1SF4-2BXU-A | BUCHER PUMP-MOTOR 24VDC 3KW 4 CC | $1,479.60 | Out of Stock | | |
| DMP-RE2.1-1MWU-A | BUCHER PUMP-MOTOR 12VDC 2KW 2.1CC | $985.60 | Out of Stock | | |
| DMP-RE2.1-2MWU-A | BUCHER PUMP-MOTOR 24VDC 2.2KW 2.1CC | $985.60 | In Stock | | |
| F0.6B1A0WUAOD1 | BUCHER POWER PACK 12VDC 2.0 KW 5L TANK 0.63CC S/A | $1,103.05 | Out of Stock | | |
| F2.1A1A0WUAOC1R | BUCHER POWER PACK 12VDC 2.0 KW 3L TANK 2.1 CC CETOP PAD & REMOTE | $1,010.95 | In Stock | | |
| F2.1A1A0WUAOD1R | BUCHER POWER PACK 12VDC 2.0 KW 3L TANK 2.1 CC S/A & REMOTE | $981.80 | In Stock | | |
| F2.1A1W0WUAOD1 | BUCHER POWER PACK 12VDC 1.5 KW 3L TANK 2.1 CC S/A | $846.45 | Out of Stock | | |
| F2.1A2M0WUAOD1R | BUCHER POWER PACK 24VDC 2.2 KW 3L TANK 2.1 CC S/A & REMOTE | $1,034.75 | Out of Stock | | |
| F2.1B1A0WUAOC1R | BUCHER POWER PACK 12VDC 2.0 KW 5L TANK 2.1 CC CETOP PAD & REMOTE | $1,019.45 | In Stock | | |
| F2.1B1A0WUAOD1R | BUCHER POWER PACK 12VDC 2.0 KW 5L TANK 2.1 CC S/A & REMOTE | $997.05 | In Stock | | |
| F2.1B2M0WUAOC1R | BUCHER POWER PACK 24VDC 2.2 KW 5L TANK 2.1 CC CETOP PAD & REMOTE | $1,065.45 | Out of Stock | | |
| F2.1B2M0WUAOD1R | BUCHER POWER PACK 24VDC 2.2 KW 5L TANK 2.1 CC S/A & REMOTE | $1,041.75 | Out of Stock | | |
| F2.1C1A0WUAOC1R | BUCHER POWER PACK 12VDC 2.0 KW 8L TANK 2.1 CC CETOP PAD & REMOTE | $1,034.75 | In Stock | | |
| F2.1C1A0WUAOD1R | BUCHER POWER PACK 12VDC 2.0 KW 8L TANK 2.1 CC S/A & REMOTE | $1,010.95 | In Stock | | |
| F2.1C2A0WUAOC1R | BUCHER POWER PACK 24VDC 2.2 KW 8L TANK 2.1 CC CETOP PAD & REMOTE | $1,057.05 | In Stock | | |
| F2.1C2M0WUAOD1R | BUCHER POWER PACK 24VDC 2.2 KW 8L TANK 2.1 CC S/A & REMOTE | $1,057.05 | In Stock | | |
| F2.1D1A0WUDOD1R | BUCHER POWER PACK 12VDC 2.0 KW 10L VERTICAL TANK 2.1 CC S/A & REMOTE | $1,065.45 | Out of Stock | | |
| F2.1E1W0WUCOD1 | BUCHER POWER PACK 12VDC 1.5KW 12L SQUARE TANK 2.1CC S/A | $902.50 | Out of Stock | | |
| F2.7G2A0WUCOD1 | BUCHER POWER PACK 24VDC 2.0 KW 16L TANK 2.7 CC S/A | $971.95 | Out of Stock | | |
| F3.7C2M0WUAOC1R | BUCHER POWER PACK 24VDC 2.0 KW 8L TANK 2.1 CC CETOP PAD & REMOTE | $1,543.70 | Out of Stock | | |
| KR40W | BUCHER RESERVOIR 3L STEEL ROUND HORIZONTAL | $62.75 | In Stock | | |
| KR45W | BUCHER RESERVOIR 5L STEEL ROUND HORIZONTAL | $55.80 | In Stock | | |
| RC-2B4L3M | BUCHER REMOTE CONTROL FOR DOUBLE ACTING POWER PACK | $80.80 | In Stock | | |
| SJ-2404Y JK202 | BUCHER START SOLENOID 24VDC | $64.15 | Out of Stock | | |
| SS-1203Y | BUCHER START SOLENOID 12VDC | $61.40 | In Stock | | |
| TK-120-15L-80-W-A | BUCHER RESERVOIR 15 LITRE STEEL SQUARE HORIZONTAL | $218.25 | Out of Stock | | |
| YBZ-TRYX-8L-W | BUCHER RESERVOIR 8L STEEL ROUND HORIZONTAL | $106.00 | In Stock | | |
| YBZ5-D0.63Y1T48 | BUCHER POWER PACK 12VDC 0.8 KW 1.5L TANK 0.63 CC + HAND PUMP | $1,382.00 | Out of Stock | | |
| YBZ5-F2.12M2/WUO | BUCHER PUMP-MOTOR 24VDC 2.2KW 2.1 CC | $435.00 | In Stock | | |
| YBZS-E0.32S1T101 | BUCHER POWER PACK 12VDC 0.8 KW 1.4L TANK 0.32 CC REVERSIBLE | $877.10 | Out of Stock | | |