EPE Accumulators
Description
Bladder Accumulators - Certified to AS1210 pressure vessel requirements.

Accumulators offer solutions to fluid control problems. Auxiliary power source/energy conservation - Reduces the need for large pumping capacity by supplementing the output of the pump beyond its capacity during peak periods.

Leakage compensators - Reduces the need for frequent pump operation by compensating for internal or external leakage when the system is pressurised but not in operation for prolonged periods.

Thermal expansion compensators - Prevents damage to circuit components and piping in a closed loop system when temperature variations cause expansion or contraction to the fluid volume by taking up any change in volume.

Emergency power source - Makes the hydraulic system failsafe in the event of pump or electric motor failure by actuating or retracting a cylinder to a safe position hereby preventing damage or injury.

Fluid make-up device - In a closed loop system, it is necessary to provide a source of fluid to make-up the difference in fluid volume between the rod end and the blind end of a cylinder.

Hydraulic shock absorber - By absorbing the shock in a system preventing pipe line failure, loosened fittings, and damaged components.

Holding device - Saves power, reduces pump wear, prevents oil overheating by maintaining high pressure in a cylinder for long periods of time allowing the pump to be unloaded or shut down.
Bladder Accumulators
Model

Description

Mean Flow
lpm

Max.Press
bar

AS0.2P360CG4V-0

0.2 Litre, 1/2" BSPP

70

330

AS0.7P360CA5V-0

0.7 Litre, 3/4" BSPP

150

360

AS1P315CA5V-2

1.0 Litre, 3/4" BSPP

150

315

AS1.5P360CA5V-8

1.5 Litre, 3/4" BSPP

150

315

AS3P315CA7V-2

3.0 Litre, 1 1/4" BSPP

300

315

AS5P260CA7V-2

5.0 Litre, 1 1/4" BSPP

300

260

AS10P240CA9V-2

10.0 Litre, 2" BSPP

500

240

AS15P240CA9V-2

15.0 Litre, 2" BSPP

500

240

AS20P240CA9V-2

20.0 Litre, 2" BSPP

500

240

AS35P240CA9V-2

35.0 Litre, 2" BSPP

500

240

AS55P240CA9V-2

55.0 Litre, 2" BSPP

500

240

Diaphragm Accumulators - Repairable
Model

Description

Max. Press
bar

AM0.35P210CM18V-0

0.35 Litre, M18 x 1.5

210

AM0.35P210CG4V-0

0.35 Litre, 1/2" BSPP

210

AM0.5P210CM18V-0

0.50 Litre, M18 x 1.5

210

AM0.5P210CG4V-0

0.50 Litre, 1/2" BSPP

210

AM0.75P210CM18V-0

0.75 Litre, M18 x 1.5

210

AM0.75P210CG4V-0

0.75 Litre, 1/2" BSPP

210

AM1.5P210CM18V-8

1.50 Litre, M18 x 1.5

210

AM1.5P210CG4V-2

1.50 Litre, 3/4" BSPP

210

AM2.5P210CM18V-8

2.50 Litre, M18 x 1.5

210

AM2.5P210CG4V-2

2.50 Litre, 3/4" BSPP

210
Diaphragm Accumulators – Welded
Model

Description

Max. Press
bar

AMS0.16P210CG4VM-0

0.16 Litre 1/2" BSP female

250

AMS0.32P210CG4VM-0

0.32 Litre 1/2" BSP female

210

AMS0.5P210CG4VM-0

0.5 Litre 1/2" BSP female

210

AMS0.75P210CG4VM-0

0.75 Litre 1/2" BSP female

210

AMS1P210CG4VM-2

1 Litre 1/2" BSP female

210

AMS1.4P210CG4VM-2

1.4 Litre 1/2" BSP female

210

AMS2P210CG4VM-2
2 Litre 1/2" BSP female
210
Downloads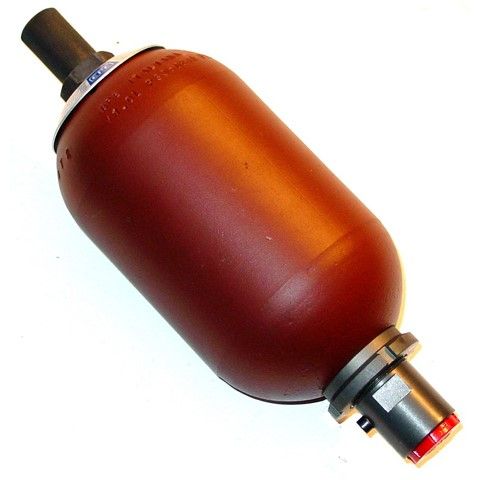 | Code | Product Name | Price | Stock Availability | Quantity | Enquire |
| --- | --- | --- | --- | --- | --- |
| 2341 | EPE ADAPTOR M16 x 1.5 to 1/4" NPT | $211.15 | Out of Stock | | |
| AM0.5P210CG4V-0 | EPE ACCUMULATOR DIAPHRAGM 0.5L 1/2" BSP | $330.65 | Out of Stock | | |
| AM1.5P210CG4V-2 | EPE ACCUMULATOR DIAPHRAGM 1.5L 1/2" BSP AS1210 | $750.35 | Out of Stock | | |
| AM2.5P210CG5V-2 | EPE ACCUMULATOR DIAPHRAGM 2.5L 3/4" BSP AS1210 | $869.85 | Out of Stock | | |
| AM4.0P210CG2 | EPE ACCUMULATOR DIAPHRAGM 4.0L 3/4" BSP AS1210 | $1,280.25 | Out of Stock | | |
| AMS0.5P210CG4VM2-2/2 | EPE ACCUMULATOR 0.5L 1/2" BSP AS1210 | $330.65 | Out of Stock | | |
| AMS0.32P210CW4VM-0 | EPE ACCUMULATOR 0.32L 1/2 BSP | $278.95 | In Stock | | |
| AMS0.75P210CW4VM-0 | EPE ACCUMULATOR 0.75L 1/2 BSP AS210 | $487.40 | In Stock | | |
| AMS1.4P210CW4VM-2/2 | EPE ACCUMULATOR 1.4L 1/2" BSP AS1210 | $766.35 | Out of Stock | | |
| AS0.2P360CG4V-0 | EPE ACCUMULATOR 0.2L 1/2" BSP | $470.15 | Out of Stock | | |
| AS0.7P360CA5V-0 | EPE ACCUMULATOR 0.7L 3/4" BSP | $672.05 | Out of Stock | | |
| AS1.5P315CA5V-2 | EPE ACCUMULATOR 1.5L 3/4" BSP AS1210 (315 BAR) | $1,171.40 | Out of Stock | | |
| AS1.5P360CA5V-8 | EPE ACCUMULATOR 1.5L 3/4" BSP 97/23/CE | $1,171.40 | Out of Stock | | |
| AS1P315CA5V-2-C0C0/2 | EPE ACCUMULATOR 1L 3/4" BSP AS1210 (315 BAR) | $915.05 | Out of Stock | | |
| AS3P315CA7V-2-C0C02 | EPE ACCUMULATOR 3L 11/4" BSP AS1210 (315 BAR) | $1,207.20 | Out of Stock | | |
| AS3P315CRG4V-2-C0C02 | EPE ACCUMULATOR 3L 1/2" BSP AS1210 (315 BAR) | $1,950.95 | Out of Stock | | |
| AS5P260CA7V-2-C0C02 | EPE ACCUMULATOR 5L 11/4" BSP AS1210 (260 BAR) | $1,394.55 | Out of Stock | | |
| AS10P360CA9V-2-X0C02 | EPE ACCUMULATOR 10L 2 BSP AS1210 (360 BAR) | $2,155.40 | Out of Stock | | |
| AS15P240CA9V-2 | EPE ACCUMULATOR 15L 2" BSP AS1210 (240 BAR) | $2,730.60 | Out of Stock | | |
| AS15P330CA9V-8 | EPE ACCUMULATOR 15L 2" BSP 97/23/CE | $2,730.60 | Out of Stock | | |
| AS15P360CA9V-2-X0C02 | EPE ACCUMULATOR 15L 2 BSP AS1210 (360 BAR) | $3,049.40 | Out of Stock | | |
| AS20P360CA9V-2-X0C02 | EPE ACCUMULATOR 20L 2 BSP AS1210 (360 BAR) | $2,816.90 | Out of Stock | | |
| AS35P360CA9V-2-X0C02 | EPE ACCUMULATOR 35L 2" BSP AS1210 (240 BAR) | $3,160.85 | Out of Stock | | |
| AS55P360CA9V-2-X0C02 | EPE ACCUMULATOR 55L 2" BSP AS1210 (240 BAR) | $3,965.65 | Out of Stock | | |
| ASA2.5P4000CSV47 | EPE ACCUMULATOR 2.5 GAL 1 7/8" UN ASME-US | $2,155.40 | Out of Stock | | |
| B2010-P | EPE SEAL KIT NBR FOR BLADDER ACC. 0.2 LITRE | $128.65 | Out of Stock | | |
| B2030-P | EPE SEAL KIT NBR FOR BLADDER ACC. 0.7 -1.5 LITRE | $140.50 | Out of Stock | | |
| B2031-P | EPE SEAL KIT NBR FOR BLADDER ACC. 3 LITRE | $146.35 | Out of Stock | | |
| B2050-P | EPE SEAL KIT NBR FOR BLADDER ACC. 5 LITRE | $158.20 | Out of Stock | | |
| B2080-P | EPE SEAL KIT NBR FOR BLADDER ACC. 10-55 LITRE | $194.80 | In Stock | | |
| B2141-P | EPE SEAL KIT BS20 SAFETY BLOCK NBR | $324.05 | Out of Stock | | |
| B2167 | EPE ADAPTOR W21.7 x 14 - M16 x 1.5 | $114.25 | Out of Stock | | |
| B2372/24D-O | EPE SOLENOID CARTRIDGE VALVE 24VDC NORMALLY OPEN | $438.30 | Out of Stock | | |
| B2372/220A-O | EPE SOLENOID CARTRIDGE VALVE 220VAC NORMALLY OPEN | $438.30 | Out of Stock | | |
| B2431 | EPE ADAPTOR 5/8" UNF- M28 x 1.5 | $369.20 | Out of Stock | | |
| B2490-CP | EPE PLUG SOLENOID CAVITY SAFETY VALVE | $148.75 | Out of Stock | | |
| B2510 | EPE ADAPTOR 5/8" UNF-7.7 x 1/32" TYPE A | $33.25 | Out of Stock | | |
| B2513 | EPE ADAPTOR 5/8" UNF-7.7 x 1/32"" TYPE D | $81.05 | Out of Stock | | |
| B10103-C | EPE VALVE PROTECTION CAP M22 X 1.5 | $47.80 | Out of Stock | | |
| C115-CP | EPE CLAMP FOR AS1/1.5/3 LITRE | $123.45 | In Stock | | |
| C170-CP | EPE CLAMP FOR AS5 LITRE | $123.45 | Out of Stock | | |
| C220-CP | EPE CLAMP FOR AS10-55 LITRE | $130.15 | Out of Stock | | |
| DBDS10K13/315-8 | EPE RELIEF VALVE 315 BAR | $345.25 | Out of Stock | | |
| DR8/330 | EPE BURST DISK | $669.40 | Out of Stock | | |
| EB2372/24 | EPE DUMP SOLENOID 24VDC | $466.20 | Out of Stock | | |
| KG2087-P | EPE SEAL KIT DIAPHRAGM AM1.5 & AM2.5 | $84.95 | Out of Stock | | |
| MA100-CP | EPE BRACKET WITH RING AS5 | $179.25 | Out of Stock | | |
| MA150-CP | EPE BRACKET WITH RING AS10-55 | $239.10 | Out of Stock | | |
| MM0.5-P | EPE DIAPHRAGM FOR AM0.5 | $126.10 | Out of Stock | | |
| MM0.35-P | EPE DIAPHRAGM FOR AMM0.35 | $116.85 | Out of Stock | | |
| MM0.75-P | EPE DIAPHRAGM FOR AM0.75 | $154.05 | Out of Stock | | |
| MM1.5-P | EPE DIAPHRAGM FOR AM1.5 | $398.45 | Out of Stock | | |
| MM1.5-V | EPE DIAPHRAGM FOR AM1.5 VITON | $710.55 | Out of Stock | | |
| MM2.5-P | EPE DIAPHRAGM FOR AM2.5 | $507.40 | Out of Stock | | |
| MM4-P | EPE DIAPHRAGM FOR AM4 | $606.95 | Out of Stock | | |
| N-M36/1.5A7-CP | EPE ADAPTOR M36 x 1.5 TO 1 1/4"" BSP | $89.00 | Out of Stock | | |
| N-M36/1.5A9-CP | EPE ADAPTOR M36 x 1.5 TO 2" BSP | $100.95 | Out of Stock | | |
| PC250S1 | EPE ACCUMULATOR CHARGE KIT 5/8" UNF - W21.7x14 | $915.05 | Out of Stock | | |
| PC250S4 | EPE ACCUMULATOR CHARGE KIT 5/8" UNF | $915.05 | Out of Stock | | |
| PCM250M4 | EPE ACCUMULATOR CHARGE KIT M28 x 1.5 | $986.75 | Out of Stock | | |
| S0.2P-C5/8V | EPE ACCUMULATOR BLADDER 0.2 LITRE | $213.80 | Out of Stock | | |
| S0.7P-C22V | EPE ACCUMULATOR BLADDER 0.7 LITRE | $260.30 | Out of Stock | | |
| S1.5P-C22V | EPE ACCUMULATOR BLADDER 1.5 LITRE | $359.85 | Out of Stock | | |
| S1P-C22V | EPE ACCUMULATOR BLADDER 1 LITRE | $281.50 | Out of Stock | | |
| S2.5P-C22V | EPE ACCUMULATOR BLADDER 2.5 LITRE | $646.80 | Out of Stock | | |
| S3P-C22V | EPE ACCUMULATOR BLADDER 3 LITRE | $425.00 | Out of Stock | | |
| S4P-C7/8V4 | EPE ACCUMULATOR BLADDER 4 LITRE | $515.30 | Out of Stock | | |
| S5P-C22V | EPE ACCUMULATOR BLADDER 5 LITRE | $552.50 | Out of Stock | | |
| S10P-C7/8V4 | EPE ACCUMULATOR BLADDER 10L ASME US | $646.80 | Out of Stock | | |
| S10P-C50V | EPE ACCUMULATOR BLADDER 10 LITRE | $646.80 | Out of Stock | | |
| S15P-C50V | EPE ACCUMULATOR BLADDER 15 LITRE | $766.35 | Out of Stock | | |
| S20P-C50V | EPE ACCUMULATOR BLADDER 20 LITRE | $998.85 | Out of Stock | | |
| S35P-C50V | EPE ACCUMULATOR BLADDER 35 LITRE | $1,138.20 | Out of Stock | | |
| S55P-C50V | EPE ACCUMULATOR BLADDER 55 LITRE | $1,782.35 | Out of Stock | | |
| TG50P4V-CP | EPE ADAPTOR M50 x 1.5 BURST DISK | $136.85 | Out of Stock | | |
| V2072 | EPE FILL VALVE 10-55 LITRE | $92.95 | In Stock | | |
| V2077-4-CP | EPE GAS FILL VALVE 7/8" UNF | $324.05 | Out of Stock | | |