Home

/

Galtech Group2 Gear Pumps
Galtech Group2 Gear Pumps
Description
Group 2 Gear Pumps
• 12 tooth gears and consequent decrease in noise levels.
• High working pressures.
• Flange and cover in aluminium or on request, cast iron (for higher pressure).
• Each individual pump is pre-set for rear connection to one or more pumps by interposition of the appropriate coupling flange.
• Comes standard with Euro-mount 96.2 mm x 71.5 mm rectangular, spigot 36.5 mm, 1:8 taper shaft & flanged ports (BSPP threaded ports also available).
Specifications
| | | | |
| --- | --- | --- | --- |
| Model | cc/rev | bar | rpm |
| 2SP-A-040-D-EUR-B-N-10-0-N | 4.0 | 250 | 4000 |
| 2SP-A-060-D-EUR-B-N-10-0-N | 6.0 | 250 | 4000 |
| 2SP-A-080-D-EUR-B-N-10-0-N | 8.5 | 250 | 3500 |
| 2SP-A-110-D-EUR-B-N-10-0-N | 11.0 | 250 | 3500 |
| 2SP-A-140-D-EUR-B-N-10-0-N | 14.0 | 250 | 3500 |
| 2SP-A-160-D-EUR-B-N-10-0-N | 16.5 | 230 | 3500 |
| 2SP-A-190-D-EUR-B-N-10-0-N | 19.5 | 210 | 3300 |
| 2SP-A-220-D-EUR-B-N-10-0-N | 22.5 | 190 | 2800 |
| 2SP-A-260-D-EUR-B-N-10-0-N | 26.0 | 170 | 2500 |
Pumps can be supplied in either clockwise or anti-clockwise rotation.
Pumps are available with cast iron end plates for higher working pressures – Consult Hyspecs
Configuration Options

Port type

Flanged ports (N)

BSPP Threaded (G) ½" Pressure & ½" Suction to 8.5 cc and ¾" above

UNO Threaded Ports (U)

Shaft type

1:8 Taper shaft (10)

5/8" Parallel keyed shaft (13)

5/8" 9 Tooth spline (14)

10 Tooth spine - (40) - available in 8.5, 11.0 and 26.0 cc pumps only

Mounting flange type

Standard Euro-mount 96.2 mm x 71.5 mm rectangle

SAE 'A' Two bolt mount

Relief valve

Integral relief valve built into the rear cover, internal exhaust (VLPI)
Downloads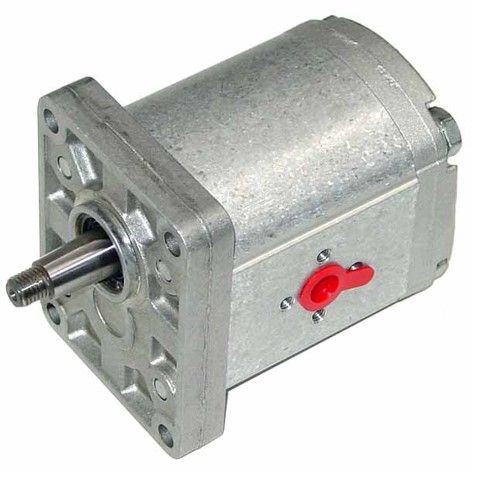 | Code | Product Name | Price | Stock Availability | Quantity | Enquire |
| --- | --- | --- | --- | --- | --- |
| 1GP20C20245 | GALTECH 2SP-A-190-S-SAEOR-B-N-14-0-T/TC/2SP-A-190-0-T | $1,632.50 | Out of Stock | | |
| 1GP20C20325 | GALTECH 2SP-A-080-S-EUR-B-N-10-0-N/TC/2SP-A-040-0-N | $1,365.30 | Out of Stock | | |
| 1GP20010000 | GALTECH 2SP-A-040-D-EUR-B-N-10-0-G | $531.90 | Out of Stock | | |
| 1GP20010005 | GALTECH 2SP-A-040-D-EUR-B-N-10-0-N | $531.90 | Out of Stock | | |
| 1GP20010048 | GALTECH 2SP-A-040-D-SAEOR-B-N-14-0-G | $581.00 | Out of Stock | | |
| 1GP20010075 | GALTECH 2SP-A-060-D-EUR-B-N-10-0-G | $531.90 | In Stock | | |
| 1GP20010081 | GALTECH 2SP-A-060-D-EUR-B-N-10-0-N | $531.90 | Out of Stock | | |
| 1GP20010122 | GALTECH 2SP-A-060-D-SAEA-B-N-13-0-G | $581.00 | In Stock | | |
| 1GP20010136 | GALTECH 2SP-A-060-D-SAEAOR-B-N-14-0-G | $581.00 | In Stock | | |
| 1GP20010172 | GALTECH 2SP-A-080-D-EUR-B-N-10-0-G | $531.90 | In Stock | | |
| 1GP20010179 | GALTECH 2SP-A-080-D-EUR-B-N-10-0-N | $531.90 | Out of Stock | | |
| 1GP20010235 | GALTECH 2SP-A-080-D-SAEA-B-N-13-0-N | $581.00 | Out of Stock | | |
| 1GP20010251 | GALTECH 2SP-A-080-D-SAEOR-B-N-14-0-G | $581.00 | Out of Stock | | |
| 1GP20010252 | GALTECH 2SP-A-080-D-SAEOR-B-N-14-0-N | $581.00 | In Stock | | |
| 1GP20010290 | GALTECH 2SP-A-110-D-EUR-B-N-10-0-U | $546.60 | Out of Stock | | |
| 1GP20010299 | GALTECH 2SP-A-110-D-EUR-B-N-10-0-G | $546.60 | Out of Stock | | |
| 1GP20010307 | GALTECH 2SP-A-110-D-EUR-B-N-10-0-N | $546.60 | Out of Stock | | |
| 1GP20010368 | GALTECH 2SP-A-110-D-SAEA-B-N-13-0-G | $593.30 | In Stock | | |
| 1GP20010390 | GALTECH 2SP-A-110-D-SAEAOR-B-N-14-0-G | $593.30 | In Stock | | |
| 1GP20010447 | GALTECH 2SP-A-140-D-EUR-B-N-10-0-G | $546.60 | Out of Stock | | |
| 1GP20010454 | GALTECH 2SP-A-140-D-EUR-B-N-10-0-N | $546.60 | Out of Stock | | |
| 1GP20010466 | GALTECH 2SP-A-140-D-EUR-B-N-13-0-G | $546.60 | In Stock | | |
| 1GP20010467 | GALTECH 2SP-A-140-D-EUR-B-N-13-0-N | $546.60 | Out of Stock | | |
| 1GP20010503 | GALTECH 2SP-A-140-D-SAEA-B-N-13-0-G | $593.30 | In Stock | | |
| 1GP20010526 | GALTECH 2SP-A-140-D-SAEOR-B-N-14-0-G | $593.30 | In Stock | | |
| 1GP20010572 | GALTECH 2SP-A-160-D-EUR-B-N-10-0-G | $546.60 | Out of Stock | | |
| 1GP20010579 | GALTECH 2SP-A-160-D-EUR-B-N-10-0-N | $546.60 | Out of Stock | | |
| 1GP20010590 | GALTECH 2SP-A-160-D-EUR-B-N-13-0-G | $546.60 | Out of Stock | | |
| 1GP20010625 | GALTECH 2SP-A-160-D-SAEA-B-N-13-0-G | $593.30 | In Stock | | |
| 1GP20010627 | GALTECH 2SP-A-160-D-SAEA-B-N-13-0-N | $593.30 | Out of Stock | | |
| 1GP20010647 | GALTECH 2SP-A-160-D-SAEOR-B-N-14-0-N | $593.30 | Out of Stock | | |
| 1GP20010706 | GALTECH 2SP-A-190-D-EUR-B-N-10-0-G | $546.60 | Out of Stock | | |
| 1GP20010715 | GALTECH 2SP-A-190-D-EUR-B-N-10-0-N | $546.60 | Out of Stock | | |
| 1GP20010754 | GALTECH 2SP-A-190-D-SAEOR-B-N-13-0-G | $593.30 | Out of Stock | | |
| 1GP20010755 | GALTECH 2SP-A-190-D-SAEA-B-N-13-0-N | $593.30 | Out of Stock | | |
| 1GP20010768 | GALTECH 2SP-A-190-D-SAEOR-B-N-14-0-N | $593.30 | In Stock | | |
| 1GP20010770 | GALTECH 2SP-A-190-D-SAEOR-B-N-14-0-G | $593.30 | Out of Stock | | |
| 1GP20010814 | GALTECH 2SP-A-220-D-EUR-B-N-10-0-G | $558.90 | Out of Stock | | |
| 1GP20010821 | GALTECH 2SP-A-220-D-EUR-B-N-10-0-N | $558.90 | Out of Stock | | |
| 1GP20010855 | GALTECH 2SP-A-220-D-SAEA-B-N-13-0-G | $606.80 | In Stock | | |
| 1GP20010856 | GALTECH 2SP-A-220-D-SAEA-B-N-13-0-N | $606.80 | In Stock | | |
| 1GP20010869 | GALTECH 2SP-A-220-D-SAEOR-B-N-14-0-N | $606.80 | Out of Stock | | |
| 1GP20010872 | GALTECH 2SP-A-220-D-SAEOR-B-N-14-0-G | $606.80 | In Stock | | |
| 1GP20010921 | GALTECH 2SP-A-260-D-EUR-B-N-10-0-G | $558.90 | In Stock | | |
| 1GP20010929 | GALTECH 2SP-A-260-D-EUR-B-N-10-0-N | $558.90 | Out of Stock | | |
| 1GP20010937 | GALTECH 2SP-A-260-D-EUR-B-N-10-0-U | $558.90 | In Stock | | |
| 1GP20010962 | GALTECH 2SP-A-260-D-SAEA-B-N-13-0-G | $606.80 | In Stock | | |
| 1GP20010979 | GALTECH 2SP-A-260-D-SAEA-B-N-40-0-U (10tooth) | $606.80 | Out of Stock | | |
| 1GP20010981 | GALTECH 2SP-A-260-D-SAEOR-B-N-14-0-G | $606.80 | In Stock | | |
| 1GP20011100 | GALTECH 2SP-A-260-D-SAEAOR-B-N-14-0-N | $724.75 | Out of Stock | | |
| 1GP20011110 | GALTECH 2SP-A-160-D-SAEOR-B-N-14-0-G | $593.30 | In Stock | | |
| 1GP20011117 | GALTECH 2SP-A-080-D-EUR-B-N-13-0-G | $625.15 | In Stock | | |
| 1GP20011185 | GALTECH 2SP-A-140-D-EUR-B-N-10-0-N-VLPI(N) | $905.30 | Out of Stock | | |
| 1GP20011399 | GALTECH 2SP-A-140-D-SAEOR-B-N-14-0-N | $593.30 | In Stock | | |
| 1GP20011494 | GALTECH 2SP-A-040-D-SAEA-B-N-13-0-N | $581.00 | In Stock | | |
| 1GP20011495 | GALTECH 2SP-A-110-D-SAEA-B-N-40-0-U | $593.30 | Out of Stock | | |
| 1GP20011553 | GALTECH 2SP-A-080-D-SAEA-B-N-40-0-U | $531.90 | Out of Stock | | |
| 1GP20011687 | GALTECH 2SP-A-220-D-EUR-B-N-14-0-N | $558.90 | Out of Stock | | |
| 1GP20011688 | GALTECH 2SP-A-060-D-SAEA-B-N-13-0-N | $581.00 | Out of Stock | | |
| 1GP20011807 | GALTECH 2SP-A-190-S-SAEA-B-N-40-N | $593.30 | Out of Stock | | |
| 1GP20011808 | GALTECH 2SP-A-060-S-SAEAOR-B-N-14-0-G-VLPIN (2800 PSI) | $800.90 | Out of Stock | | |
| 2SP-A-11-14G | GALTECH SP PUMP 11 CC 9T | $546.60 | In Stock | | |
| 2SP-A-19-13G | GALTECH SP PUMP 19.5 CC PARA | $546.60 | In Stock | | |
| 2SP-A-19-A-O-14N | GALTECH SP PUMP 19.5 CC SAE A 9T | $593.30 | Out of Stock | | |
| 2SP-A-26-13G | GALTECH SP PUMP 26 CC PARA | $558.90 | In Stock | | |