Home

/

OMT Flexible Couplings
OMT Flexible Couplings
Description
POL Steel Series - OMT
Steel couplings with polyamide sleeve, pre-bored or blank coupling halves. Designed to establish a connection between an electric motor and hydraulic pump. Mix and match to get the desired assembly.

ND Aluminium Series - OMT
Cast alloy with flexible rubber insert, pre-bored to suit 1:8 taper or SAE shafts and UNEL
electric motors.
Click here to download the Flexible Couplings and Bellhousing Selection Guide to help you select your product.
Downloads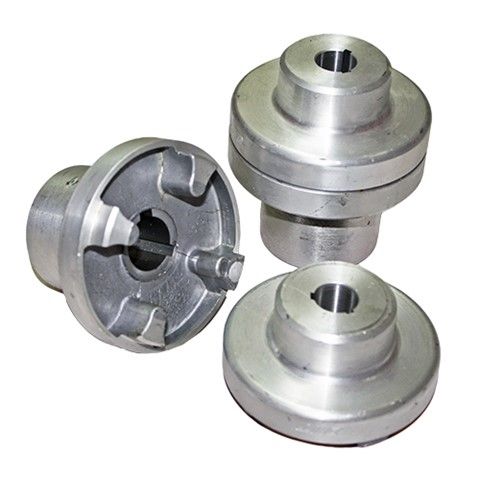 | Code | Product Name | Price | Stock Availability | Quantity | Enquire |
| --- | --- | --- | --- | --- | --- |
| 252835 | OMT HALF COUPLING 3/4" NS48C48C22 TO SUIT 5.5 HP HONDA | $61.45 | In Stock | | |
| 252836 | OMT HALF COUPLING 1/2" NS48C23D62 5.5 HP HONDA | $50.35 | In Stock | | |
| ND 2 | OMT COUPLING GP1-48-14MM 71 FRAME | $45.45 | Out of Stock | | |
| ND 7 | OMT COUPLING GP2-65-19MM 80 FRAME | $58.95 | In Stock | | |
| ND 8 | OMT COUPLING GP1-65-24MM 90 FRAME | $58.95 | In Stock | | |
| ND 10 | OMT COUPLING GP2-65-24MM 90 FRAME | $58.95 | In Stock | | |
| ND 11 | OMT COUPLING GP1-65-28MM 100/112 FR | $63.90 | Out of Stock | | |
| ND 13 | OMT COUPLING GP2-65-28MM 100/112 FR | $63.90 | In Stock | | |
| ND 14 | OMT COUPLING GP2-86-28MM 100/112 FR | $99.50 | In Stock | | |
| ND 16 | OMT COUPLING GP2-86-38MM 132 FRAME | $120.40 | In Stock | | |
| ND 17 | OMT COUPLING GP3-86-38MM 132 FRAME | $120.40 | In Stock | | |
| ND 40 | OMT COUPLING GP3-108-55MM 200 FRAME | $222.40 | Out of Stock | | |
| ND 43A | OMT COUPLING GP2-108-42MM 160 FRAME | $185.55 | In Stock | | |
| ND 43C | OMT COUPLING GP3-108-42MM 160 FRAME | $185.55 | Out of Stock | | |
| ND 44C | OMT COUPLING GP3-108-48MM 180 FRAME | $211.30 | Out of Stock | | |
| ND 510 | OMT COUPLING 5.5 HP HONDA - GP 1 | $58.95 | In Stock | | |
| ND 511 | OMT COUPLING 5.5HP HONDA - 12MM PAR | $58.95 | In Stock | | |
| ND 600 | OMT COUPLING EY41 ROBIN - GP1 | $78.60 | Out of Stock | | |
| ND 603 | OMT COUPLING EY41 ROBIN 25mm - GP2 | $78.60 | In Stock | | |
| ND 610 | OMT COUPLING 8-13HP HONDA - GP1 | $78.60 | In Stock | | |
| ND 613 | OMT COUPLING 8-13HP HONDA 25.4mm - GP 2 | $84.75 | Out of Stock | | |
| ND 710 | OMT COUPLING 8-13HP HONDA / SAE A | $115.45 | Out of Stock | | |
| ND BC5 | OMT COUPLING GP1 TO 2.2KW DC TANG | $67.60 | In Stock | | |
| ND48BG1 | OMT HALF COUPLING MOTOR 14MM | $17.20 | In Stock | | |
| ND48CC22 | OMT HALF COUPLING PETROL ENGINE 3/4" | $42.95 | In Stock | | |
| ND48CG1 | OMT HALF COUPLING MOTOR 19MM | $20.90 | Out of Stock | | |
| ND48DG1 | OMT HALF COUPLING MOTOR 24MM | $20.90 | Out of Stock | | |
| ND48P1C | OMT HALF COUPLING 12MM PARALLEL | $22.10 | Out of Stock | | |
| ND48PU1P | OMT HALF COUPLING GP 1 | $17.20 | In Stock | | |
| ND65AG1 | OMT HALF COUPLING MOTOR 19MM | $25.80 | In Stock | | |
| ND65BG1 | OMT HALF COUPLING MOTOR 24MM | $25.80 | In Stock | | |
| ND65CG1 | OMT HALF COUPLING MOTOR 28MM | $25.80 | In Stock | | |
| ND65H4D11 | OMT HALF COUPLING 5/8 13HP HONDA (PART 252934) | $58.95 | Out of Stock | | |
| ND65H4D22 | OMT HALF COUPLING 3/4" 13HP HONDA | $58.95 | In Stock | | |
| ND65H9C22 | OMT HALF COUPLING PUMP 3/4" 90 FRA | $73.70 | Out of Stock | | |
| ND65HC19 | OMT HALF COUPLING PUMP 19MM & 5MM KEY | $50.35 | Out of Stock | | |
| ND65HC22 | OMT HALF COUPLING PUMP 3/4" 100/112 | $50.35 | Out of Stock | | |
| ND65MC33 | OMT HALF COUPLING 25MM | $51.60 | In Stock | | |
| ND65MC34 | OMT HALF COUPLING 25MM BORE 8MM KEY | $51.60 | Out of Stock | | |
| ND65MC35 | OMT HALF COUPLING 25.4MM | $51.60 | In Stock | | |
| ND65P2 | OMT HALF COUPLING PUMP GP2 | $28.25 | Out of Stock | | |
| ND65PU1P | OMT HALF COUPLING GP 1 | $28.25 | In Stock | | |
| ND86AG1 | OMT HALF COUPLING MOTOR 28MM | $47.90 | In Stock | | |
| ND86BG1 | OMT HALF COUPLING MOTOR 38MM | $63.90 | Out of Stock | | |
| ND86P2 | OMT HALF COUPLING GP2 | $50.35 | In Stock | | |
| ND86P3U | OMT HALF COUPLING GP3 | $52.80 | Out of Stock | | |
| ND108BG1 | OMT HALF COUPLING MOTOR 42MM | $126.55 | Out of Stock | | |
| ND108CG1 | OMT HALF COUPLING MOTOR 48MM | $153.50 | In Stock | | |
| ND108DG1 | OMT HALF COUPLING 55MM | $173.20 | Out of Stock | | |
| ND108H2C98 | OMT HALF COUPLING PUMP 1-1/4" 180 SHORT | $95.75 | Out of Stock | | |
| ND108HC98 | OMT HALF COUPLING PUMP 1-1/4" 180 LONG | $73.70 | Out of Stock | | |
| ND108P2 | OMT HALF COUPLING GP2 | $78.60 | Out of Stock | | |
| ND108P3U | OMT HALF COUPLING GP3 | $78.60 | Out of Stock | | |
| NS48C | OMT HALF COUPLING MOTOR BLANK | $28.25 | Out of Stock | | |
| NS48P | OMT HALF COUPLING PUMP BLANK | $20.90 | Out of Stock | | |
| NS65C | OMT HALF COUPLING MOTOR BLANK | $47.90 | Out of Stock | | |
| NS65C6D62 | OMT HALF COUPLING 1/2" 13HP HONDA 42MM LONG | $58.95 | In Stock | | |
| NS65C13C62 | OMT HALF COUPLING 1/2" 13HP HONDA 25MM LONG | $82.30 | In Stock | | |
| NS65P | OMT HALF COUPLING PUMP BLANK | $20.90 | In Stock | | |
| NS65Q3C10 | OMT HALF COUPLING 5/8" PARALLEL SAE | $52.80 | Out of Stock | | |
| NS65Q3C11 | OMT HALF COUPLING 5/8" PARALLEL | $52.80 | Out of Stock | | |
| NS86A | OMT HALF COUPLING MOTOR BLANK | $50.35 | Out of Stock | | |
| NS86B | OMT HALF COUPLING MOTOR BLANK | $89.65 | Out of Stock | | |
| NS86P | OMT HALF COUPLING PUMP BLANK | $39.40 | Out of Stock | | |
| NS108A | OMT HALF COUPLING MOTOR BLANK | $89.65 | Out of Stock | | |
| NS108C | OMT HALF COUPLING MOTOR BLANK | $180.55 | Out of Stock | | |
| NS108Q | OMT HALF COUPLING PUMP BLANK | $63.90 | Out of Stock | | |
| OMT3060C | OMT HALF COUPLING BLANK | $45.45 | Out of Stock | | |
| OMT3060C36 | OMT HALF COUPLING 28MM 100/112 FRAM | $63.90 | Out of Stock | | |
| OMT3060SE07 | OMT HALF COUPLING PUMP SAE A 9T | $115.45 | Out of Stock | | |
| OMT4040C35 | OMT HALF COUPLING PUMP SAE B 1 PARA | $79.80 | Out of Stock | | |
| OMT4080C | OMT HALF COUPLING BLANK | $73.70 | Out of Stock | | |
| OMT4080C22 | OMT HALF COUPLING PUMP SAE A 3/4" PARA | $109.30 | Out of Stock | | |
| OMT4080C27 | OMT HALF COUPLING PUMP SAE B 7/8" PARA | $109.30 | Out of Stock | | |
| OMT4080C47 | OMT HALF COUPLING 38MM 132 FRAME | $95.75 | Out of Stock | | |
| OMT4080SE10 | OMT HALF COUPLING PUMP SAE B 13T | $167.05 | Out of Stock | | |
| OMT4080SE11 | OMT HALF COUPLING PUMP SAE B 15T | $167.05 | Out of Stock | | |
| OMT5060C22 | OMT HALF COUPLING PUMP SAE A 3/4"" PARA | $136.35 | Out of Stock | | |
| OMT5060C28 | OMT HALF COUPLING PUMP 7/8" PARA | $136.35 | Out of Stock | | |
| OMT5060C40 | OMT HALF COUPLING PUMP 1 1/4" PARA | $136.35 | Out of Stock | | |
| OMT5060SE04 | OMT HALF COUPLING PUMP SAE C 14T | $143.70 | In Stock | | |
| OMT5060SE10 | OMT HALF COUPLING PUMP SAE B 13T | $143.70 | Out of Stock | | |
| OMT5060SE11 | OMT HALF COUPLING PUMP SAE B 15T | $143.70 | Out of Stock | | |
| OMT5080C | OMT HALF COUPLING BLANK | $89.65 | Out of Stock | | |
| OMT5080C40 | OMT HALF COUPLING PUMP 1 1/4" PARA | $143.70 | Out of Stock | | |
| OMT5080SE04 | OMT HALF COUPLING PUMP SAE C 14T | $167.05 | Out of Stock | | |
| OMT5080SE06 | OMT HALF COUPLING PUMP SAE CC 17T | $167.05 | Out of Stock | | |
| OMT5080SE10 | OMT HALF COUPLING SAE B 13T | $167.05 | Out of Stock | | |
| OMT5110C51 | OMT HALF COUPLING 42MM 160 FRAME | $153.50 | Out of Stock | | |
| OMT5110C54 | OMT HALF COUPLING 48MM 180 FRAME | $153.50 | In Stock | | |
| OMT6080C40 | OMT HALF COUPLING 1 1/4" PARA SAE C | $217.40 | Out of Stock | | |
| OMT6080C56 | OMT HALF COUPLING 55MM | $217.40 | Out of Stock | | |
| OMT6080C57 | OMT HALF COUPLING 60MM | $217.40 | Out of Stock | | |
| OMT6080C58 | OMT HALF COUPLING 65MM | $293.60 | Out of Stock | | |
| OMT6080SE04 | OMT HALF COUPLING PUMP SAE C 14T | $254.25 | Out of Stock | | |
| OMT6080SE06 | OMT HALF COUPLING PUMP SAE CC 17T | $254.25 | Out of Stock | | |
| OMT6110C | OMT HALF COUPLING BLANK | $205.15 | Out of Stock | | |
| OMT6110C39 | OMT HALF COUPLING PUMP 1 1/4" PARA | $254.25 | Out of Stock | | |
| OMT6110C48 | OMT HALF COUPLING PUMP 1 1/2" PARA | $254.25 | Out of Stock | | |
| OMT6110C56 | OMT HALF COUPLING 55MM 200 FRAME | $254.25 | Out of Stock | | |
| OMT6140C57 | OMT HALF COUPLING 60MM 225 FRAME (37-45KW) | $310.75 | Out of Stock | | |
| POL-3 | OMT SLEEVE OMT3 | $24.55 | Out of Stock | | |
| POL-4 | OMT SLEEVE OMT4 | $25.80 | Out of Stock | | |
| POL-5 | OMT SLEEVE OMT5 | $39.40 | In Stock | | |
| POL-6 | OMT SLEEVE OMT6 | $89.65 | Out of Stock | | |
| R-42 | OMT COUPLING RUBBER 42MM | $14.75 | In Stock | | |
| R-62 | OMT COUPLING RUBBER 62MM | $27.05 | In Stock | | |
| R-82 | OMT COUPLING RUBBER 82MM | $18.40 | In Stock | | |
| R-103 | OMT COUPLING RUBBER 103MM | $22.10 | In Stock | | |