Home

/

Char-Lynn Motors T
Char-Lynn Motors T
Description
T Series Features & Benefits
• Constant clearance geroler' geometry – high efficiency
• Optimized drive system with reduced running angle - smooth low-speed operation
• Three-pressure zone design (ability to reduce case pressure) - extended motor life (espe- cially at low speed conditions)
• Variety of displacements, shafts and mounts
Specifications
| | | | | | | | | | | | | |
| --- | --- | --- | --- | --- | --- | --- | --- | --- | --- | --- | --- | --- |
| Displacement | cc/rev | 36 | 49 | 66 | 80 | 102 | 131 | 157 | 195 | 244 | 306 | 370 |
| Max. Speed* | rpm | 1021 | 906 | 849 | 694 | 550 | 426 | 355 | 287 | 229 | 183 | 152 |
| Flow | lpm | 38 | 45 | 57 | 57 | 57 | 57 | 57 | 57 | 57 | 57 | 57 |
| Torque* | Nm | 76 | 105 | 138 | 174 | 219 | 251 | 297 | 359 | 410 | 441 | 430 |
| Press. ∆bar** | bar | 155 | 155 | 155 | 155 | 155 | 138 | 138 | 138 | 127 | 110 | 90 |
* @ max continuous flow and max. continuous pressure.
** Max intermittent pressure @ motor inlet port of 190 bar without regard to ∆bar and/or back
pressure ratings.
A simultaneous maximum torque and maximum speed is NOT recommended.
6B splined or tapered shafts are recommended whenever operating above 282 Nm of torque, especially for those applications subject to frequent reversals.
Maximum case pressure - without case drain - 103 bar.
∆bar - true pressure difference between inlet and outlet port.
If a Char-Lynn motor is showing as unavailable please send an enquiry as we may be able to build it from existing stock.
Downloads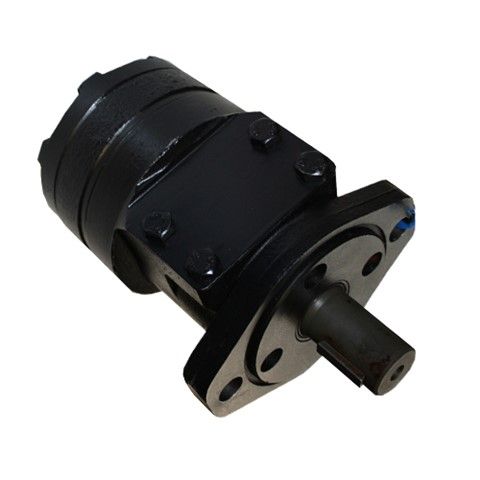 | Code | Product Name | Price | Stock Availability | Quantity | Enquire |
| --- | --- | --- | --- | --- | --- |
| 158-1003-001 | CHAR-LYNN MT0062BA01AB0000000000A0A 102cc, 4 blt, 1 str, .500 | $1,153.75 | Out of Stock | | |
| 158-1005-001 | CHAR-LYNN MT0119BA01AB0000000000A0A 195cc, 4 blt, 1 str, .500 | $1,265.05 | Out of Stock | | |
| 158-1010-001 | CHAR-LYNN MT0049BA01AA0000000000A0A 80cc, 4 blt, 1 str, 7/8 UN | $1,364.55 | Out of Stock | | |
| 158-1011-001 | CHAR-LYNN MT0062BA01AA0000000000A0A 102cc, 4 blt, 1 str, 7/8 | $1,346.20 | Out of Stock | | |
| 158-1012-001 | CHAR-LYNN MT0096BA01AA0000000000A0A 158cc, 4 blt, 1 str, 7/8 UN | $1,367.10 | Out of Stock | | |
| 158-1013-001 | CHAR-LYNN MT0119BA01AA0000000000A0A 195cc, 4 blt, 1 str, 7/8 UN | $1,419.25 | Out of Stock | | |
| 158-1014-001 | CHAR-LYNN MT0149BA01AA0000000000A0A 244cc, 4 blt, 1 str, 7/8 UN | $1,478.40 | In Stock | | |
| 158-1015-001 | CHAR-LYNN MT0187BA01AA0000000000A0A 306cc, 4 blt, 1 str, 7/8 UN | $1,573.50 | Out of Stock | | |
| 158-1016-001 | CHAR-LYNN MT0226BA01AA0000000000A0A 370cc, 4 blt, 1 str, 7/8 UN | $1,659.25 | Out of Stock | | |
| 158-1018-001 | CHAR-LYNN MT0049BA01AC0000000000A0A 80cc, 4 blt, 1 str, 5/16 man | $1,182.70 | Out of Stock | | |
| 158-1019-001 | CHAR-LYNN MT0062BA01AC0000000000A0A 102cc, 4 blt, 1 str, 5/16 ma | $1,197.80 | Out of Stock | | |
| 158-1022-011 | CHAR-LYNN MT0149BA01AC0000000000A0A 244cc, 4 blt, 1 str, 5/16 ma | $1,338.10 | Out of Stock | | |
| 158-1023-001 | CHAR-LYNN MT0187BA01AC0000000000A0A 306cc, 4 blt, 1 str, 5/16 ma | $1,443.65 | Out of Stock | | |
| 158-1024-001 | CHAR-LYNN MT0226BA01AC0000000000A0A 370cc, 4 blt, 1 str, 5/16 ma | $1,502.75 | Out of Stock | | |
| 158-1034-001 | CHAR-LYNN MT0049AA01AA0000000000A0A 80cc, 2 blt, 1 str, 7/8 UN | $1,346.20 | Out of Stock | | |
| 158-1035-001 | CHAR-LYNN MT0062AA01AA0000000000A0A 102cc, 2 blt, 1 str, 7/8 UN | $1,369.40 | Out of Stock | | |
| 158-1036-001 | CHAR-LYNN MT0096AA01AA0000000000A0A 158cc, 2 blt, 1 str, 7/8 UN | $1,386.80 | Out of Stock | | |
| 158-1037-001 | CHAR-LYNN MT0119AA01AA0000000000A0A 195cc, 2 blt, 1 str, 7/8 UN | $1,443.65 | Out of Stock | | |
| 158-1038-001 | CHAR-LYNN MT0149AA01AA0000000000A0A 244cc, 2 blt, 1 str, 7/8 UN | $1,501.65 | In Stock | | |
| 158-1039-001 | CHAR-LYNN MT0187AA01AA0000000000A0A 306cc, 2 blt, 1 str, 7/8 UN | $1,600.15 | Out of Stock | | |
| 158-1040-001 | CHAR-LYNN MT0226AA01AA0000000000J0A 370cc, 2 blt, 1 str, 7/8 UN | $1,711.45 | Out of Stock | | |
| 158-1042-001 | CHAR-LYNN MT0049AA01AC0000000000A0A 80cc, 2 blt, 1 str, 5/16 man | $1,401.90 | Out of Stock | | |
| 158-1043-001 | CHAR-LYNN MT0062AA01AC0000000000A0A 102cc, 2 blt, 1 str, 5/16 ma | $1,394.90 | Out of Stock | | |
| 158-1044-001 | CHAR-LYNN MT0096AA01AC0000000000A0A 158cc, 2 blt, 1 str, 5/16 | $1,493.45 | Out of Stock | | |
| 158-1046-001 | CHAR-LYNN MT0149AA01AC0000000000A0A 244cc, 2 blt, 1 str, 5/16 ma | $1,585.10 | Out of Stock | | |
| 158-1058-001 | CHAR-LYNN MT0049BA02AA0000000000A0A 80cc, 4 blt, 6B, 7/8 UN | $1,340.45 | Out of Stock | | |
| 158-1059-001 | CHAR-LYNN MT0062BA02AA0000000000A0A 102cc, 4 blt, 6B, 7/8 UN | $1,392.60 | Out of Stock | | |
| 158-1060-001 | CHAR-LYNN MT0096BA02AA0000000000A0A 158cc, 4 blt, 6B, 7/8 UN | $1,469.15 | Out of Stock | | |
| 158-1061-001 | CHAR-LYNN MT0119BA02AA0000000000A0A 195cc, 4 blt, 6B, 7/8 UN | $1,527.10 | Out of Stock | | |
| 158-1063-001 | CHAR-LYNN MT0187BA02AA0000000000A0A 306cc, 4 blt, 6B, 7/8 UN | $1,688.25 | Out of Stock | | |
| 158-1064-001 | CHAR-LYNN MT0226BA02AA0000000000A0A 370cc, 4 blt, 6B, 7/8 UN | $1,756.75 | Out of Stock | | |
| 158-1071-001 | CHAR-LYNN MT0187BA02AC0000000000A0A 306cc, 4 blt, 6B, 5/16 ma | $1,752.05 | Out of Stock | | |
| 158-1075-001 | CHAR-LYNN MT0062AA02AB0000000000A0A 102cc, 2 blt, 6B, .500 | $1,187.35 | Out of Stock | | |
| 158-1082-001 | CHAR-LYNN MT0049AA02AA0000000000A0A 80cc, 2 blt, 6B, 7/8 UN | $1,160.65 | Out of Stock | | |
| 158-1083-001 | CHAR-LYNN MT0062AA02AA0000000000A0A 102cc, 2 blt, 6B, 7/8 UN | $1,175.75 | Out of Stock | | |
| 158-1084-001 | CHAR-LYNN MT0096AA02AA0000000000A0A 158cc, 2 blt, 6B, 7/8 UN | $1,240.70 | Out of Stock | | |
| 158-1086-001 | CHAR-LYNN MT0149AA02AA0000000000A0A 244cc, 2 blt, 6B, 7/8 UN | $1,317.20 | Out of Stock | | |
| 158-1087-001 | CHAR-LYNN MT0187AA02AA0000000000A0A 306cc, 2 blt, 6B, 7/8 UN | $1,425.10 | Out of Stock | | |
| 158-1088-001 | CHAR-LYNN MT0226AA02AA0000000000A0A 370cc, 2 blt, 6B, 7/8 UN | $1,481.85 | Out of Stock | | |
| 158-1410-001 | CHAR-LYNN MT0049BA01AA0000000AB0A0A 80cc, 4 blt, 1, 7/8 UN | $1,160.65 | Out of Stock | | |
| 158-1412-001 | CHAR-LYNN MT0096BA01AA0000000AB0A0A 158cc, 4 blt, 1, 7/8 UN | $1,240.70 | Out of Stock | | |
| 158-1413-001 | CHAR-LYNN MT0119BA01AA0000000AB0A0A 195cc, 4 blt, 1, 7/8 UN | $1,288.20 | Out of Stock | | |
| 158-1428-001 | CHAR-LYNN MT0062AA01AA0000000AB0A0A 102cc, 2 blt, 1, 7/8 UN | $1,175.75 | Out of Stock | | |
| 158-1435-001 | CHAR-LYNN MT0049AA01AF2000000000A0A 80cc, 2 blt, 1, 1/2 BSP | $1,171.10 | Out of Stock | | |
| 158-1436-001 | CHAR-LYNN MT0062AA01AF2000000000A0A 102cc, 2 blt, 1, 1/2 BSP | $1,187.35 | Out of Stock | | |
| 158-1437-001 | CHAR-LYNN MT0096AA01AF2000000000A0A 158cc, 2 blt, 1, 1/2 BSP | $1,251.10 | Out of Stock | | |
| 158-1438-001 | CHAR-LYNN MT0119AA01AF2000000000A0A 195cc, 2 blt, 1, 1/2 BSP | $1,428.60 | Out of Stock | | |
| 158-1439-001 | CHAR-LYNN MT0149AA01AF2000000000A0A 244cc, 2 blt, 1, 1/2 BSP | $1,328.85 | Out of Stock | | |
| 158-1444-001 | CHAR-LYNN MT0096AA01AD2000000000A0A 158cc, 2 blt, 1, M8 man | $1,294.05 | Out of Stock | | |
| 158-1446-001 | CHAR-LYNN MT0149AA01AD2000000000A0A 244cc, 2 blt, 1 M8 man | $1,371.70 | Out of Stock | | |
| 158-1452-001 | CHAR-LYNN MT0119AA02AF2000000000A0A 195cc, 2 blt, 6B, 1/2 | $1,332.30 | Out of Stock | | |
| 158-1456-001 | CHAR-LYNN MT0049AA02AD2000000000A0A 80cc, 2 blt, 6B, M8 man | $1,248.80 | Out of Stock | | |
| 158-1458-001 | CHAR-LYNN MT0096AA02AD2000000000A0A 158cc, 2 blt, 6B, 7/8 | $1,328.85 | Out of Stock | | |
| 158-1460-001 | CHAR-LYNN MT0149AA02AD2000000000A0A 244cc, 2 blt, 6B, M8 man | $1,405.35 | Out of Stock | | |
| 158-1463-001 | CHAR-LYNN MT0049AA24AF2000000000A0A 80cc, 2 blt, 25mm, 1/2 BSP | $1,207.10 | Out of Stock | | |
| 158-1464-001 | CHAR-LYNN MT0062AA24AF2000000000A0A 102cc, 2 blt, 25mm, 1/2 BSP | $1,222.10 | Out of Stock | | |
| 158-1465-001 | CHAR-LYNN MT0096AA24AF2000000000A0A 158cc, 2 blt, 25mm, 1/2 BSP | $1,287.10 | Out of Stock | | |
| 158-1466-001 | CHAR-LYNN MT0119AA24AF2000000000A0A 195cc, 2 blt, 25mm, 1/2 BSP | $1,332.30 | Out of Stock | | |
| 158-1467-001 | CHAR-LYNN MT0149AA24AF2000000000A0A 244cc, 2 blt, 25mm, 1/2 BSP | $1,361.25 | Out of Stock | | |
| 158-1468-001 | CHAR-LYNN MT0187AA24AF2000000000A0A 306cc, 2 blt, 25mm, 1/2 BSP | $1,468.00 | Out of Stock | | |
| 158-1469-001 | CHAR-LYNN MT0226AA24AF2000000000A0A 370cc, 2 blt, 25mm, 1/2 BSP | $1,528.20 | Out of Stock | | |
| 158-1479-001 | CHAR-LYNN MT0096FA01AF2000000000A0A 158cc, 4 blt, 1, 1/2 BSP | $1,258.15 | Out of Stock | | |
| 158-1537-001 | CHAR-LYNN MT0040AA01AA0000000000A0A 65cc, 2 blt, 1, 7/8 UN | $1,314.90 | Out of Stock | | |
| 158-1538-001 | CHAR-LYNN MT0080AA01AA0000000000A0A 131cc, 2 blt, 1, 7/8 UN | $1,381.00 | Out of Stock | | |
| 158-1540-001 | CHAR-LYNN MT0040AA01AB0000000000A0A 65cc, 2 blt, 1, .500 | $1,129.40 | Out of Stock | | |
| 158-1547-001 | CHAR-LYNN MT0080AA01AD2000000000A0A 131cc, 2 blt, 1, M8 man | $1,255.75 | Out of Stock | | |
| 158-1549-001 | CHAR-LYNN MT0040AA01AF2000000000A0A 65cc, 2 blt, 1, 1/2 BSP | $1,163.05 | Out of Stock | | |
| 158-1550-001 | CHAR-LYNN MT0080AA01AF2000000000A0A 131cc, 2 blt, 1, 1/2 BSP | $1,361.25 | Out of Stock | | |
| 158-1553-001 | CHAR-LYNN MT0080AA02AA0000000000A0A 131cc, 2 blt, 6B, 7/8 UN | $1,412.30 | Out of Stock | | |
| 158-1567-001 | CHAR-LYNN MT0040AA24AD2000000000A0A 65cc, 2 blt, 25mm, M8 man | $1,207.10 | Out of Stock | | |
| 158-1570-001 | CHAR-LYNN MT0040BA01AA0000000000A0A 65cc, 4 blt, 1, 7/8 UN | $1,291.70 | Out of Stock | | |
| 158-1571-001 | CHAR-LYNN MT0080BA01AA0000000000A0A 131cc, 4 blt, 1, 7/8 UN | $1,357.80 | In Stock | | |
| 158-1579-001 | CHAR-LYNN MT0040BA02AA0000000000A0A 65cc, 4 blt, 6B, 7/8 UN | $1,151.45 | Out of Stock | | |
| 158-1606-001 | CHAR-LYNN MT0040AA24AF2000000000A0A 65cc, 2 blt, 25mm, 1/2 BSP | $1,343.90 | Out of Stock | | |
| 158-1607-001 | CHAR-LYNN MT0080AA24AF2000000000A0A 131cc, 2 blt, 25mm, 1/2 BSP | $1,246.55 | Out of Stock | | |
| 158-1624-001 | CHAR-LYNN MT0062AA24AA0000000000A0A 102cc, 2 blt, 25mm, 7/8 UN | $1,367.32 | Out of Stock | | |
| 158-1631-001 | CHAR-LYNN MT0080AA18AA1000000000A0A 131cc, 2 blt, 1 tpr, 7/8 | $1,290.60 | Out of Stock | | |
| 158-2013-001 | CHAR-LYNN MT0119BA01AA1000000000A0A 195cc, 4 blt, 1, 7/8 UN | $1,445.95 | Out of Stock | | |
| 158-2026-001 | CHAR-LYNN MT0049AA01AB1000000000A0A 80cc, 2 blt, 1, .500 | $1,190.85 | Out of Stock | | |
| 158-2035-001 | CHAR-LYNN MT0062AA01AA1000000000A0A 102cc, 2 blt, 1, 7/8 UN | $1,396.10 | Out of Stock | | |
| 158-2037-001 | CHAR-LYNN MT0119AA01AA1000000000A0A 195cc, 2 blt, 1, 7/8 UN | $1,469.15 | Out of Stock | | |
| 158-2039-001 | CHAR-LYNN MT0187AA01AA1000000000A0A 306cc, 2 blt, 1, 7/8 UN | $1,624.50 | Out of Stock | | |
| 158-2040-001 | CHAR-LYNN MT0226AA01AA1000000000A0A 370cc, 2 blt, 1, 7/8 UN | $1,711.45 | Out of Stock | | |
| 158-2067-001 | CHAR-LYNN MT0062BA02AC1000000000A0A 102cc, 4 blt, 6B, 5/16 man | $1,230.25 | Out of Stock | | |
| 158-2086-001 | CHAR-LYNN MT0149AA02AA1000000000A0A 244cc, 2 blt, 6B, 7/8 UN | $1,558.40 | Out of Stock | | |
| 158-2521-001 | CHAR-LYNN MT0119AA18AA1000000000A0A 195cc, 2 blt, 1 tpr, 7/8 | $1,330.00 | Out of Stock | | |
| 158-2685-001 | CHAR-LYNN MT0096HA02AF2000000000A0A 158cc, 2B 20°, 6B, 1/2 BSP | $1,745.15 | Out of Stock | | |
| 158-2694-001 | CHAR-LYNN MT0062AN01AA00N0000SS0D0A 102cc, 2 blt, 1 nickel, 7/8 | $1,411.15 | Out of Stock | | |
| 158-2702-001 | CHAR-LYNN MT0187AA24AF0000000AB0A0A 306cc, 2 blt, 25mm, 1/2 BSP | $1,435.50 | Out of Stock | | |
| 158-2781-001 | CHAR-LYNN MT0062AA24AF0000000000A0A 102cc, 2 blt, 25mm, 1/2 BSP | $1,187.35 | Out of Stock | | |
| 158-2789-001 | CHAR-LYNN MT0096AA24AF0000000000A0A 158cc, 2 blt, 25mm, 1/2 BSP | $1,251.10 | Out of Stock | | |
| 158-2816-001 | CHAR-LYNN MT0030AA02AA0000000000A0A 49cc, 2 blt, 6B, 7/8 BSP | $1,151.45 | Out of Stock | | |
| 158-2917-001 | CHAR-LYNN MT0030AA01AA0000000000A0A 49cc, 2 blt, 1, 7/8 UNO | $1,119.00 | Out of Stock | | |
| 158-2928-001 | CHAR-LYNN MT0022BA01AA0000000000A0A 35cc, 4 blt, 1 str, 7/8 UN | $1,108.55 | Out of Stock | | |
| 158-2987-001 | CHAR-LYNN MT0030BA01AA000030000000A 49cc, 4 blt, 1 str, 7/8 UN | $1,119.00 | In Stock | | |
| 158-2988-001 | CHAR-LYNN MT0096DD16AA0000000AB0A0A 158cc, 2 SAE-B, 13T, 7/8 UN | $1,274.35 | Out of Stock | | |
| 158-2999-001 | CHAR-LYNN MT0040AA01AA00000E0000A0A 65cc, 2 blt, 1 str, 7/8 UN | $1,899.25 | Out of Stock | | |
| 158-3024-001 | CHAR-LYNN MT0022AA01AA0000000000A0A 35cc, 2 blt, 1 str, 7/8 UN | $1,295.15 | Out of Stock | | |
| 158-3027-001 | CHAR-LYNN MT0030AN01AA00N0000SS0D0A 49cc, 2 blt, 1 nickel, 7/8 | $1,386.80 | Out of Stock | | |
| 158-3028-001 | CHAR-LYNN MT0030AA24AF2000000000A0A 49cc, 2 blt, 25mm, 1/2 BSP | $1,338.10 | Out of Stock | | |
| 158-3044-001 | CHAR-LYNN MT0030DD16AA0000000000A0A 49cc, 2 SAE-B, 13T, 7/8 UN | $1,151.45 | Out of Stock | | |
| 158-3051-001 | CHAR-LYNN MT0030AA16AA0000000000A0A 49cc, 2 blt, 13T, 7/8 UN | $1,151.45 | Out of Stock | | |
| 158-3063-001 | CHAR-LYNN MT0049AA01AA00N0000AB000A 80cc, 2 blt, 1 nickel, 7/8 | $1,251.10 | Out of Stock | | |
| 158-3064-001 | CHAR-LYNN MT0062AA16AA1000000000A0A 102cc, 2 blt, 13T, 7/8 UN | $1,210.55 | Out of Stock | | |
| 158-3119-001 | CHAR-LYNN MT0040AA01AA1000700000A0A 65cc, 2 blt, 1 str, 7/8 UN | $1,151.45 | Out of Stock | | |
| 158-3171-006 | CHAR-LYNN MT0022AA02AA0000000ER0A0A 35cc, 2 blt, 6B, 7/8 UN | $1,139.80 | Out of Stock | | |
| 158-3172-001 | CHAR-LYNN MT0119AA01AA00000E0000A0A 195cc 2 blt, 1, 7/8, SPD S | $2,035.00 | Out of Stock | | |
| 158-3199-001 | CHAR-LYNN MT0049AA01AAA000700000A0A 80cc, 2 blt, 1 str, 7/8 UN | $1,160.65 | Out of Stock | | |
| 158-3200-001 | CHAR-LYNN MT0096AA01AAA000700000A0A 158cc, 2 blt, 1 str, 7/8 UN | $1,240.70 | Out of Stock | | |
| 158-3206-001 | CHAR-LYNN MT0187AA24AA100000000000A 306cc, 2 blt, 25mm, 7/8 UN | $1,458.65 | Out of Stock | | |
| 158-3209-001 | CHAR-LYNN MT0119AA24AA1000000000A0A 193cc, 2 blt, 25mm, 7/8 UN | $1,334.65 | Out of Stock | | |
| 158-3213-001 | CHAR-LYNN MT0049MA39AD2000000000A0A 80cc, 2 blt, 25mm, M8 | $1,248.80 | Out of Stock | | |
| 158-3227-001 | CHAR-LYNN MT0149AA24AA0000000000A0A 244cc, 2 blt, 25mm, 7/8 UN | $1,317.20 | Out of Stock | | |
| 158-3276-001 | CHAR-LYNN MT0049AA01AA00000E0000A0A 80cc 2 blt 1 str 7/8 SPD S | $1,907.45 | Out of Stock | | |
| 158-3277-001 | CHAR-LYNN MT0080EA02AA1000000000A0A 131cc, mag, 6B, 7/8 UN | $1,200.10 | Out of Stock | | |
| 158-3346-001 | CHAR-LYNN MT0030AA24AF20N0000000A0A 49cc, 2 blt, 25mm, 1/2 UN | $1,197.80 | Out of Stock | | |
| 158-3347-001 | CHAR-LYNN MT0049AA24AF20N0000000A0A 80cc, 2 blt, 25mm, 1/2 BSP | $1,207.10 | Out of Stock | | |
| 158-3348-001 | CHAR-LYNN MT0096AA24AF20N0000000A0A 158cc, 2 blt, 25mm, 1/2 BSP | $1,287.10 | Out of Stock | | |
| 158-3349-001 | CHAR-LYNN MT0119AA24AF20N0000000A0A 195cc, 2 blt, 25mm, 1/2 BSP | $1,332.30 | Out of Stock | | |
| 158-3350-001 | CHAR-LYNN MT0187AA24AF20N0000000A0A 306cc, 2 blt, 25mm, 1/2 BSP | $1,468.00 | Out of Stock | | |
| 158-3394-001 | CHAR-LYNN MT0040AA24AA1000000000A0A 65cc, 2 blt, 25mm, 7/8 UN | $1,186.20 | Out of Stock | | |
| 158-3416-001 | CHAR-LYNN MT0096AA01AA00N0000000A0A 158cc, 2 blt, 1 str, 7/8 | $1,320.70 | Out of Stock | | |
| 158-3458-001 | CHAR-LYNN M0T0030AA24AA0000000000A0A 49cc 2B 25mm 7/8 UN | $1,165.35 | Out of Stock | | |
| 158-3459-001 | CHAR-LYNN MT0080AA24AA0000000000A0A 131cc, 2 blt, 25mm, 7/8 UN | $1,200.10 | Out of Stock | | |
| 158-3466-001 | CHAR-LYNN MT0062AA24AA00N0000000A0A 102cc, 2 blt, 25mm, 7/8 UN | $1,175.75 | Out of Stock | | |
| 158-3490-001 | CHAR-LYNN MT0226AA01AA00N0000000A0A 370cc 2 blt 1 str 7/8 | $1,538.65 | Out of Stock | | |
| 158-3513-001 | CHAR-LYNN MT0022AN01AA00N0000SS0D0A 35cc, 2 blt, 1 nickel, 7/8 | $1,377.50 | Out of Stock | | |
| 158-3572-001 | CHAR-LYNN MT0096AA24AA0000000000A0A 158cc 2 blt 25mm 7/8 | $1,287.10 | Out of Stock | | |
| 158-3620-001 | CHAR-LYNN MT0149BA24AA0000000000A0A 244cc, 4 blt, 25mm, 7/8 UN | $1,314.90 | Out of Stock | | |
| 158-3621-001 | CHAR-LYNN MT0187BA24AA0000000000A0A 306cc, 4 blt, 25mm, 7/8 UN | $1,421.60 | Out of Stock | | |
| 158-3634-001 | CHAR-LYNN MT0187AA24AF140N000000000AA00A 306cc 2blt 25mm nickel 1/2 | $1,506.20 | Out of Stock | | |
| 158-3794-001 | CHAR-LYNN MT0049AA24AA0000000000A0A 80cc 2 blt 25mm 7/8 | $1,160.65 | Out of Stock | | |
| 158-4205-001 | CHAR-LYNN M0T02A24E0000A0A 36cc 2 blt 25mm 1/2 | $1,122.40 | Out of Stock | | |