Home

/

Char-Lynn Motors 4K
Char-Lynn Motors 4K
Description
4000 Series Features & Benefits
• 10 displacements, a variety of mounting flanges and output shafts
• Reliable, proven design
• High efficiency
• Environmental protection options
• Flexibility in designing this motor into a system
• Options that fit well into tough applications
Specifications
| | | | | | | | | | | |
| --- | --- | --- | --- | --- | --- | --- | --- | --- | --- | --- |
| Displacement | cc/rev | 110 | 130 | 160 | 205 | 245 | 310 | 395 | 495 | 625 |
| Max. Speed* | rpm | 697 | 722 | 582 | 459 | 383 | 303 | 239 | 191 | 151 |
| Flow | lpm | 75 | 95 | 95 | 95 | 95 | 95 | 95 | 95 | 95 |
| Torque* | Nm | 320 | 375 | 485 | 600 | 705 | 850 | 930 | 945 | 970 |
| Press. ∆bar** | bar | 205 | 205 | 205 | 205 | 205 | 205 | 185 | 140 | 115 |
* @ max continuous flow and max. continuous pressure.
** Max intermittent pressure @ motor inlet port of 310 bar without regard to ∆bar and/or back
pressure ratings.
Maximum torque for 1 1/4" diameter shaft = 770 Nm continuous.
To assure optimum motor life, run motor for approximately one hour at 30% of rated pressure before application of full load.
Maximum case pressure - without case drain - 105 bar.
∆bar - true pressure difference between inlet and outlet port.
If a Char-Lynn motor is showing as unavailable please send an enquiry as we may be able to build it from existing stock.
Downloads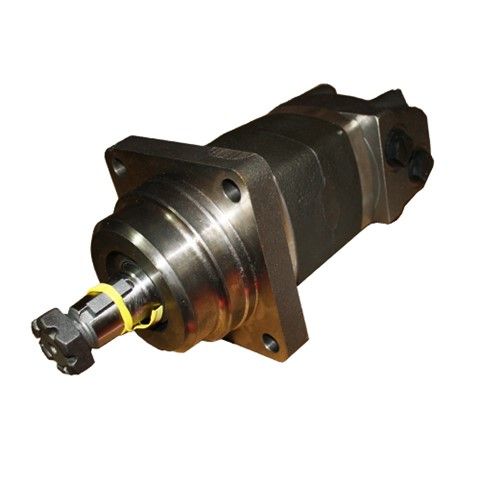 | Code | Product Name | Price | Stock Availability | Quantity | Enquire |
| --- | --- | --- | --- | --- | --- |
| 109-1001-006 | CHAR-LYNN M04067AB01AD02000000000000000F 109.8cc, 4B, 1.25 str, | $2,730.70 | Out of Stock | | |
| 109-1002-006 | CHAR-LYNN M04099AB01AD02000000000000000F 162.2cc, 4B, 1.25 str, | $2,785.20 | Out of Stock | | |
| 109-1003-006 | CHAR-LYNN M04125AB01AD02000000000000000F 205.5cc, 4B, 1.25 str, | $2,806.05 | Out of Stock | | |
| 109-1006-006 | CHAR-LYNN M04067AB02AD02000000000000000F 109.8cc, 4B, 1.625 tpr, | $2,810.70 | Out of Stock | | |
| 109-1007-006 | CHAR-LYNN MTR 4K 9.9 CID/160 CC | $2,868.65 | Out of Stock | | |
| 109-1008-006 | CHAR-LYNN M04125AB02AD02000000000000000F 205.5cc, 4B, 1.625 tpr, | $2,889.60 | Out of Stock | | |
| 109-1011-006 | CHAR-LYNN M04067AB03AD02000000000000000F 109.8cc, 4B, 14T, .75 | $2,751.55 | Out of Stock | | |
| 109-1012-006 | CHAR-LYNN M04099AB03AD02000000000000000F 162.2cc, 4B, 14T, .75 | $2,807.20 | Out of Stock | | |
| 109-1013-006 | CHAR-LYNN M04125AB03AD02000000000000000F 205.5cc, 4B, 14T, .75 | $2,829.25 | Out of Stock | | |
| 109-1052-006 | CHAR-LYNN M04190AE05AA01000000000000000F 311.8cc, 4 blt, 1.25 tpr | $3,441.45 | Out of Stock | | |
| 109-1053-006 | CHAR-LYNN M04240AE05AA01000000000000000F 393.9cc, 4 blt, 1.25 tpr | $3,093.60 | Out of Stock | | |
| 109-1055-006 | CHAR-LYNN M04150AB01AD02000000000000000F 246.3cc, 4B, 1.25 str, | $2,824.60 | Out of Stock | | |
| 109-1056-006 | CHAR-LYNN M04190AB01AD02000000000000000F 311.8cc, 4B, 1.25 str, | $2,855.95 | Out of Stock | | |
| 109-1057-006 | CHAR-LYNN M04240AB01AD02000000000000000F 393.9cc, 4B, 1.25 str, | $2,904.65 | Out of Stock | | |
| 109-1059-006 | CHAR-LYNN M04150AB02AD02000000000000000F 246.3cc, 4B, 1.625 tpr, | $2,894.20 | Out of Stock | | |
| 109-1060-006 | CHAR-LYNN MTR 4K 19.0 CID/310 CC | $2,938.25 | Out of Stock | | |
| 109-1061-006 | CHAR-LYNN M04240AB02AD02000000000000000F 393.9cc, 4 blt, 1.625 tpr | $2,986.95 | Out of Stock | | |
| 109-1062-006 | CHAR-LYNN M04080AB03AD02000000000000000F 130.3cc, 2B, 14T, .75 | $2,791.00 | Out of Stock | | |
| 109-1063-006 | CHAR-LYNN M04150AB03AD02000000000000000F 246.3cc, 4B, 14T, .75 | $2,846.65 | Out of Stock | | |
| 109-1100-006 | CHAR-LYNN M04067AB01AB02000000000000000F 109.8cc, 4B, 1.25 str | $2,830.40 | Out of Stock | | |
| 109-1101-006 | CHAR-LYNN M04080AB01AB02000000000000000F 130.3cc, 4B, 1.25 str | $2,844.35 | Out of Stock | | |
| 109-1102-006 | CHAR-LYNN M04099AB01AB02000000000000000F 162.2cc, 4B, 1.25 str | $2,878.00 | Out of Stock | | |
| 109-1103-006 | CHAR-LYNN M04125AB01AB02000000000000000F 205.5cc, 4B, 1.25 str | $2,922.05 | Out of Stock | | |
| 109-1104-006 | CHAR-LYNN M04150AB01AB02000000000000000F 246.3cc, 4B, 1.25 str | $2,947.55 | Out of Stock | | |
| 109-1105-006 | CHAR-LYNN M04190AB01AB02000000000000000F 311.8cc, 4B, 1.25 str | $3,000.85 | Out of Stock | | |
| 109-1106-006 | CHAR-LYNN M04240AB01AB02000000000000000F 393.9cc, 4B, 1.25 str | $3,062.30 | Out of Stock | | |
| 109-1107-006 | CHAR-LYNN M04067AB02AB02000000000000000F 109.8cc, 4B, 1.625 tpr | $2,683.15 | Out of Stock | | |
| 109-1109-006 | CHAR-LYNN M04099AB02AB02000000000000000F 162.2cc, 4B, 1.625 tpr | $2,741.10 | Out of Stock | | |
| 109-1111-006 | CHAR-LYNN M04150AB02AB02000000000000000F 246.3cc, 4B, 1.625 tpr | $2,778.25 | Out of Stock | | |
| 109-1112-006 | CHAR-LYNN M04190AB02AB02000000000000000F 311.8cc, 4B, 1.625 tpr | $2,808.40 | Out of Stock | | |
| 109-1113-006 | CHAR-LYNN M04240AB02AB02000000000000000F 393.9cc, 4B, 1.625 tpr | $3,151.60 | Out of Stock | | |
| 109-1114-006 | CHAR-LYNN M04067AB03AB02000000000000000F 109.8cc, 4B, 14T, 1.06 | $2,624.00 | Out of Stock | | |
| 109-1115-006 | CHAR-LYNN M04080AB03AB02000000000000000F 130.3cc, 4B, 14T, 1.06 | $2,857.05 | Out of Stock | | |
| 109-1116-006 | CHAR-LYNN M04099AB03AB02000000000000000F 162.2cc, 4B, 14T, 1.06 | $2,893.05 | Out of Stock | | |
| 109-1117-006 | CHAR-LYNN M04125AB03AB02000000000000000F 205.5cc, 4B, 14T, 1.06 | $2,934.75 | Out of Stock | | |
| 109-1118-006 | CHAR-LYNN M04150AB03AB02000000000000000F 246.3cc, 4B, 14T, 1.06 | $2,963.75 | Out of Stock | | |
| 109-1119-006 | CHAR-LYNN M04190AB03AB02000000000000000F 311.8cc, 4B, 14T, 1.0625 | $3,015.95 | Out of Stock | | |
| 109-1120-006 | CHAR-LYNN M04240AB03AB02000000000000000F 393.9cc, 4B, 14T, 1.06 | $3,078.60 | Out of Stock | | |
| 109-1142-006 | CHAR-LYNN M04099AE05AA01000000000000000F 162.2cc, 4 blt, 1.25 tpr | $2,833.90 | Out of Stock | | |
| 109-1155-006 | CHAR-LYNN M04080AF07AB02000000000000000F 130.3cc, 4C, 14T, 1.06 | $2,722.55 | Out of Stock | | |
| 109-1157-006 | CHAR-LYNN M04125AF07AB02000000000000000F 205.5cc, 4C, 14T, 1.06 | $2,764.30 | Out of Stock | | |
| 109-1158-006 | CHAR-LYNN M04150AF07AB02000000000000000F 246.3cc, 4C, 14T, 1.06 | $3,054.15 | Out of Stock | | |
| 109-1173-006 | CHAR-LYNN M04190AE08AA01000000005000000F 311.8cc, 4 blt, 14T, 7/8 | $3,463.50 | Out of Stock | | |
| 109-1181-006 | CHAR-LYNN M04240AF03AD02000000000000000F 393.9cc, 4C, 14T, .75 | $2,988.10 | Out of Stock | | |
| 109-1189-006 | CHAR-LYNN M04190AF11AC0300000000000AA00F 311.8cc, 4C, 40mm str, | $2,807.20 | Out of Stock | | |
| 109-1190-006 | CHAR-LYNN M04240AF11AC0300000000000AA00F 393.9cc, 4C, 40mm str, | $3,170.10 | Out of Stock | | |
| 109-1200-006 | CHAR-LYNN MTR 4K 7.9 CID/130 CC | $2,722.55 | Out of Stock | | |
| 109-1203-006 | CHAR-LYNN M04125AF03AB02000000000000000F 205.5cc, 4C, 14T, 1.06 | $2,764.30 | Out of Stock | | |
| 109-1204-006 | CHAR-LYNN M04099AB03AA01000100010000000F 162.2cc, 4B, 14T, 7/8 | $3,167.85 | Out of Stock | | |
| 109-1206-006 | CHAR-LYNN M04301AF01AB02000000000000000F 492.6cc, 4C, 1.25 str | $3,093.60 | Out of Stock | | |
| 109-1207-006 | CHAR-LYNN M04381AF01AB02000000000000000F 623.9cc, 4C, 1.25 str | $3,424.10 | Out of Stock | | |
| 109-1212-006 | CHAR-LYNN M04301AB01AB02000000000000000F 492.6cc, 4B, 1.25 str | $3,329.00 | Out of Stock | | |
| 109-1215-006 | CHAR-LYNN M04381AB01AB02000000000000000F 623.9cc, 4B, 1.25 str | $3,660.65 | Out of Stock | | |
| 109-1220-006 | CHAR-LYNN M04190AF03AB02000000000000000F 311.8cc, 4C, 14T, 1.06 | $2,848.95 | Out of Stock | | |
| 109-1225-006 | CHAR-LYNN M04150AF11AC0300000000000AA00F 246.3cc, 4C, 40mm str | $2,797.95 | Out of Stock | | |
| 109-1227-006 | CHAR-LYNN M04099AF11AC0300000000000AA00F 162.2cc 4C 40mm str 3/4 | $2,852.45 | Out of Stock | | |
| 109-1234-006 | CHAR-LYNN M04301AH11AC0300000000000AA00F 492.6cc 4B ISO 40mm str | $3,552.75 | Out of Stock | | |
| 109-1236-006 | CHAR-LYNN M04240AH11AC0300000000000AA00F 393.9cc, 4B ISO, 40mm str | $3,289.60 | Out of Stock | | |
| 109-1241-006 | CHAR-LYNN M04190AE05AB02000010000000000F 311.8cc, 4 blt, 1.25 tpr | $3,378.85 | Out of Stock | | |
| 109-1245-006 | CHAR-LYNN M04150AH11AC0300000000000AA00F 246.3cc 4B ISO 40mm str | $3,174.75 | Out of Stock | | |
| 109-1246-006 | CHAR-LYNN M04190AH11AC0300000000000AA00F 311.8cc 4B ISO 40mm str | $3,227.65 | Out of Stock | | |
| 109-1278-006 | CHAR-LYNN M04190AF03AD02000000000000000F 311.8cc, 4C, 14T, .75 | $2,938.25 | Out of Stock | | |
| 109-1280-006 | CHAR-LYNN M04240AF03AB02000000000000000F 393.9cc, 4C, 14T, 1.0625 | $2,861.70 | Out of Stock | | |
| 109-1339-006 | CHAR-LYNN M04240AF11AB02000000000000000F 393.9cc, 4C, 40mm, 1.06 | $2,857.05 | Out of Stock | | |
| 109-1340-006 | CHAR-LYNN M04381AF02AB0200000001300AA00F 623.9cc, 4C, 1.625 tpr | $3,504.15 | Out of Stock | | |
| 109-1427-006 | CHAR-LYNN M04150AF01AB0200000000000AA00F 246.3cc, 4C, 1.25 str | $2,758.55 | Out of Stock | | |
| 109-1440-006 | CHAR-LYNN M04190AB03AB02000100000000000F 311.8cc, 4B, 14T, 1.0625 FREE RUNNING | $3,051.90 | Out of Stock | | |
| 109-1450-006 | CHAR-LYNN M04150AF07AD02000000013000000F 246.3cc 4C 14T .75 | $2,949.85 | Out of Stock | | |
| 109-1453-006 | CHAR-LYNN M04240AF10AB0200000000000AA00F 393.9cc 4C 17T 1.0625 | $3,322.10 | Out of Stock | | |
| 109-1455-006 | CHAR-LYNN M04381AB02AB02000000000000000F 623.9cc, 4B, 1.625 tpr | $3,441.45 | Out of Stock | | |
| 109-1479-006 | CHAR-LYNN M04301AB02AB02000000000000000F 492.6cc, 4B, 1.625" tpr | $3,235.10 | Out of Stock | | |
| 109-1543-006 | CHAR-LYNN M04150AM03AB0200010000000AA00F 246.3cc, mag, 14T, 1.06 | $2,961.45 | Out of Stock | | |
| 110-1007-006 | CHAR-LYNN M04099AC02AD02000000000000000F 162.2cc, wh, 1.625 tpr | $3,253.65 | Out of Stock | | |
| 110-1045-006 | CHAR-LYNN MTR 4K 15.0 CID/245 CC | $3,064.60 | Out of Stock | | |
| 110-1046-006 | CHAR-LYNN MTR 4K 19.0 CID/310 CC | $3,098.25 | Out of Stock | | |
| 110-1047-006 | CHAR-LYNN M04240AC02AD02000000000000000F 393.9cc, wh, 1.625 tpr | $3,134.20 | Out of Stock | | |
| 110-1073-006 | CHAR-LYNN M04190AD02AB0200000000000AD00F 311.8cc, wh, 1.625 tpr | $3,268.70 | Out of Stock | | |
| 110-1075-006 | CHAR-LYNN M04080AC01AB02000000000000000F 130.3cc, wh, 1.25 str | $2,789.85 | Out of Stock | | |
| 110-1079-006 | CHAR-LYNN M04190AC01AB02000000000000000F 311.8cc, wh, 1.25 str | $2,874.50 | Out of Stock | | |
| 110-1080-006 | CHAR-LYNN M04240AC01AB02000000000000000F 393.9cc, wh, 1.25 str | $2,925.50 | Out of Stock | | |
| 110-1081-006 | CHAR-LYNN M04067AC02AB02000000000000000F 109.8cc, wh, 1.625 tpr | $3,070.40 | Out of Stock | | |
| 110-1082-006 | CHAR-LYNN M04080AC02AB02000000000000000F 130.3cc, wh, 1.625 tpr | $3,091.30 | Out of Stock | | |
| 110-1083-006 | CHAR-LYNN M04099AC02AB02000000000000000F 162.2cc, wh, 1.625 tpr | $3,121.50 | Out of Stock | | |
| 110-1084-006 | CHAR-LYNN M04125AC02AB02000000000000000F 205.5cc, wh, 1.625 tpr | $3,164.35 | Out of Stock | | |
| 110-1085-006 | CHAR-LYNN M04150AC02AB02000000000000000F 246.3cc, wh, 1.625 tpr | $3,191.05 | Out of Stock | | |
| 110-1086-006 | CHAR-LYNN M04190AC02AB02000000000000000F 311.8cc, wh, 1.625 tpr | $3,245.85 | Out of Stock | | |
| 110-1087-006 | CHAR-LYNN M04240AC02AB02000000000000000F 393.9cc, wh, 1.625 tpr | $3,307.00 | Out of Stock | | |
| 110-1093-006 | CHAR-LYNN M04190AC03AB02000000000000000F 311.8cc, wh, 14T, 1.06 | $2,896.50 | Out of Stock | | |
| 110-1116-006 | CHAR-LYNN M04301AC02AB02000000000000000F 492.6cc, wh, 1.625 tpr | $3,572.50 | Out of Stock | | |
| 110-1117-006 | CHAR-LYNN M04381AC02AB02000000000000000F 623.9cc, wh, 1.625 tpr | $3,905.30 | Out of Stock | | |
| 110-1125-006 | CHAR-LYNN M04240AC11AC0300000000000AA00F 393.9cc,wh, 40mm, 3/4 | $3,906.45 | Out of Stock | | |
| 110-1126-006 | CHAR-LYNN M0419D02B01A0F | $3,390.45 | Out of Stock | | |
| 110-1256-006 | CHAR-LYNN M04240AC02AB02000030000000000F 393.9cc wh 1.625 tpr | $3,113.35 | Out of Stock | | |