Home

/

Pressure Sensors & Switches
Pressure Sensors & Switches
Description
Pressure / Temperature Sensors – IFM
Manufactured in Germany these sensors all feature ¼" BSPP male threads with seal.
Electrical connection is the M12 industrial standard. For customers who are not using
their own M12 wiring loom we stock a 90 degree wireable socket.

Subminiature Diaphram and Piston types MS-PS - Stauff
New MS-PS adjustable pressure switches, available either in diaphragm execution up to 100 bar or piston execution up to 300 bar. Diaphragm and piston MS-PS pressure switches are particularly suitable to monitor pressure in automation, hydraulics, gas distribution, fire prevention, lifting systems, pharmaceutical industry, lubrication plants, refrigeration and so on.
Specifications
| | |
| --- | --- |
| Model | Description |
| PK6523 | Pressure switch, 0-25 bar, normally open or closed switch |
| PK6521 | Pressure switch, 13-250 bar, normally open or closed switch |
| PK6520 | Pressure switch, 20-400 bar, normally open or closed switch |
| PT5401 | Pressure Transducer, 0-250 bar, 4...20mA analogue output |
| PT5400 | Pressure Transducer, 0-400 bar, 4...20mA analogue output |
| TK6130 | Temperature switch 16-140 degrees Celsius, normally open or closed |
| TK6110 | Temperature switch 16-140 degrees Celsius, intuitive switch point setting |
| E11509 | M12 Wireable socket 90 degrees |
| E30094 | Protective cover |
Downloads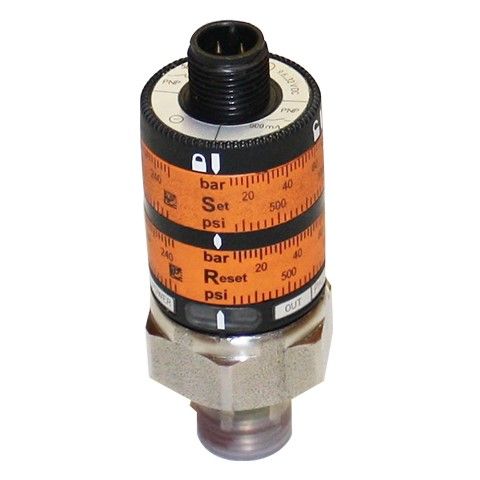 | Code | Product Name | Price | Stock Availability | Quantity | Enquire |
| --- | --- | --- | --- | --- | --- |
| CR2050 | IFM I/O MODULE FOR MOBILE MACHINES 16 INPUT | $695.00 | Out of Stock | | |
| CR2051 | IFM I/O MODULE FOR MOBILE MACHINES 16 OUTPUT | $783.76 | Out of Stock | | |
| CR2052 | IFM I/O MODULE FOR MOBILE MACHINES 8 INPUT 8 OUTPUT | $783.76 | Out of Stock | | |
| CR3003 | IFM PWM TO ANALOGUE MODULE 0 - 5VDC | $89.25 | Out of Stock | | |
| CR3004 | IFM PWM TO ANALOGUE MODULE 0 - 10VDC | $89.25 | Out of Stock | | |
| DX2023 | IFM MULTIFUNCTIONAL DISPLAY PULSE INPUT | $596.36 | Out of Stock | | |
| DX2042 | IFM MULTIFUNCTIONAL DISPLAY ANALOGUE INPUT | $712.11 | Out of Stock | | |
| E11509 | IFM M12 WIREABLE SOCKET 90 DEG | $33.00 | Out of Stock | | |
| E12565 | IFM CONNECTING CABLE WITH SOCKET FOR CR205X I/O MODULE | $45.58 | Out of Stock | | |
| E30094 | IFM PROTECTIVE COVER | $11.00 | Out of Stock | | |
| EVC004 | IFM M12 SOCKET 90 DEG WITH 2M CABLE | $31.16 | Out of Stock | | |
| EVC005 | IFM M12 SOCKET 90 DEG WITH 5M CABLE | $36.46 | Out of Stock | | |
| MS10SCNTR14K | STAUFF PRESSURE SWITCH 1-10 BAR G1/4 C/W CAP | $130.00 | In Stock | | |
| PK6520 | IFM PRESSURE SWITCH 20 - 400 BAR | $399.41 | Out of Stock | | |
| PK6521 | IFM PRESSURE SWITCH 13 - 250 BAR | $388.38 | Out of Stock | | |
| PK6523 | IFM PRESSURE SWITCH 0 - 25 BAR | $388.38 | Out of Stock | | |
| PK7520 | IFM PRESSURE SWITCH 20 - 400 BAR 2 x NO OUTPUTS | $388.38 | Out of Stock | | |
| PK7521 | IFM PRESSURE SWITCH 7.5 - 250 BAR 2 x NO OUTPUTS | $388.38 | Out of Stock | | |
| PS300SCNTR14K | STAUFF PRESSURE SWITCH 50-300 BAR G1/4" C/W CAP | $155.00 | In Stock | | |
| PT3550 | IFM PRESSURE TRANSDUCER 0 - 400 BAR | $251.64 | Out of Stock | | |
| PT5400 | IFM PRESSURE TRANSDUCER 0 - 400 BAR | $251.64 | In Stock | | |
| PT5401 | IFM PRESSURE TRANSDUCER 0 - 250 BAR | $244.44 | Out of Stock | | |
| PU8743 | IFM PRESSURE TRANSMITTER 0 - 40 BAR | $220.90 | In Stock | | |
| TK6110 | IFM TEMPERATURE SWITCH -16...140 DEG C | $309.52 | Out of Stock | | |
| TK6130 | IFM TEMPERATURE SWITCH -16...140 DEG C | $309.52 | Out of Stock | | |